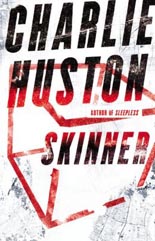 To say that Charlie Huston's latest novel breaks new ground comes as no surprise to his growing posse of fans. They already know how the author has added his own unique touches to crime fiction in both his series and stand-alone novels.
SKINNER, however, is particularly noteworthy for the way Huston grabs espionage/spy fiction by its neck and hauls it into the contemporary world — not only in its plot conflict, but through its characters and prose style.
Skinner is not his real name, but because his parents raised him in an observation box —a method developed by behavioral psychologist B.F. Skinner — it's what he's known by. Thanks to this unorthodox upbringing ("engineered rather than raised"), Skinner is one of the most effective and feared "asset protectors" (or client bodyguards) in the entire intelligence community.
His general method, which has become known as Skinner's First Maxim, is: "The only true way to secure an asset is to ensure that the cost of acquiring it is greater than its value." Yet after a failed assignment in Paris that almost cost him his life, his CIA handlers have banished him and allowed rumors of his death to flourish … that is, until a cyberterrorist attack nearly disables the U.S. power grid.
Skinner's former boss, who now runs a private intelligence firm used by the government, brings him out of his hidden retirement. Skinner's new asset is Jae, a rogue roboticist with a unique skill for detecting systems and patterns that are otherwise invisible.
 
Together, Jae and Skinner set out to trace the source of the dangerous computer virus. But because they immediately go against the prescribed directions and protocol of their employers, both find themselves hunted as they follow the faint clues.
 
Huston's characters are the first arresting feature. Writers like John le Carré long ago demonstrated how modern spies were far removed from the suave, near superhero tactics of a James Bond. Huston takes this lesson even further. We learn almost at once how cold, calculating and brutal Skinner is. His odd upbringing makes emotions difficult for him to process, yet he has no hesitation whatsoever about killing and can easily transform the most mundane everyday object into a deadly weapon.
Jae, on the other hand, abhors boredom and constantly busies herself with various miniature robot inventions (that she then uses in her assignments) or disappears for long stretches of time on what seem like spiritual quests fueled by an array of psychedelic drugs. These are a far cry from the personal insecurities, infidelities and occasional bouts of alcoholism that plagued le Carré's spies.
 
These ultra-contemporary characters are brilliantly portrayed through Huston's stunning prose style. Skinner's perspective, like his dialogue, is immediate, yet frighteningly distant with only the vaguest hints of empathy. By contrast, the passages where Jae approaches information and data overload — in the midst of the various and often violent episodes in their travels to the far corners of the world — are some of the most vivid and memorable ever written. Using what appear like sentence fragments, but read like present-day speech patterns, Huston takes us intimately inside Jae's mind as she assimilates the infinite bits of contradicting facts while struggling to make some kind of sense of it all.
 
Overriding all of this are those who employed Skinner and Jae. Here, the author reveals how the intelligence community has become yet another government bureaucracy that is anxious for quick results, yet easily rushes to judgment — especially when covering their own flanks.
 
It may sound like a cliché, but it's nonetheless accurate to say that SKINNER is not your father's kind of spy novel. Indeed, years from now, Huston's book will undoubtedly be recalled as the work that foretold the future of spy thrillers. Best read it now while such assessments are being formulated. —Alan Cranis