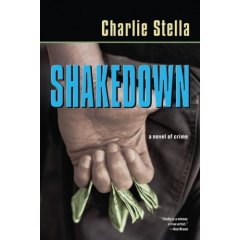 Take all the action from one season of THE SOPRANOS, strip away all the filler, put it into book form and you have yourself this little prize. In SHAKEDOWN, Charlie Stella gives crime fans a taut little mob novel, packed with great characters and some terrific action.
Bobby Genarro is a former bookmaker for the mob, having retired from his position three months earlier. But unfortunately, there has been a change in the "family," with the new head of the Vignieri family, Joe Quastifare, wanting some back money due to him now that he is in charge. In other words, a shakedown – hence the title.
So Bobby is greeted by an old-school mob man – Tommy Agro, who can't get his idioms out right – and his young protegé – a former college football player – whose job it is to collect the money. But Bobby wants nothing to do with it, and just wants to be left alone with his Asian girlfriend, Lin Yao.
If you think you know where this novel is going, think again, since Stella peppers the book with so many surprises that even jaded crime fans will rejoice. With crooked cops, Irish mobsters and Yin's cousin – the local head of a Chinese gang who has no love for Bobby – things really turn for the worse, especially when Agros gets the upper hand, causing more angst and grief than Bobby can handle.
I'd go into greater detail, but that ruins the pleasure of discovering a book like SHAKEDOWN. Believe me: This one is a keeper that deserves a wide audience. It all comes to a head in the precious last few pages, and you'll wish it would not end. Stella writes so well, you're not only sucked into the mob world, but you'll also wish some of this would be used on that certain TV show instead of the lumbering pace it chooses to follow.
I'm just telling you right now: Put down the remote and grab SHAKEDOWN. For my money, it's the best modern mob novel going. –Bruce Grossman