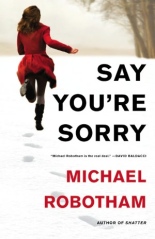 Clinical psychologist Dr. Joe O'Loughlin returns in Michael Robotham's SAY YOU'RE SORRY. The plot is noticeably more intimate than O'Laughlin's previous encounters and will no doubt feel familiar to thriller fans. But that doesn't prevent this from becoming one of the author's finest works to date and quite possibly one of the best thrillers of the year.
Renowned criminal profiler and psychologist O'Loughlin has been invited to deliver a lecture at Oxford University, and takes the opportunity to travel from his London base to spend some time with his daughter. No sooner does he arrive when he is enlisted by the local police to participate in a murder investigation.
A husband and wife were found brutally murdered in a farmhouse outside of town. Earlier, in what seems an unrelated case, the frozen body of a young girl is pulled from a nearby lake following a recent massive blizzard. The body is identified as Natasha "Tash" McBain, who, along with close friend Piper Hadley, mysteriously disappeared three years ago in a case known as "The Bingham Girls" that captivated the entire nation.
 
When O'Loughlin discovers that the farmhouse was once where Tash lived with her parents, he pieces together other seemingly unrelated details and becomes convinced that Piper is still alive and held prisoner nearby. O'Loughlin convinces the police to reopen the Bingham Girls case, but fears that if he and the investigators don't act quickly, Piper will soon be killed.
 
There is nothing altogether innovative about the premise of a cold kidnapping case suddenly becoming active again. Yet Robotham manages to make the whole concept seem new thanks to his structure and intriguing characters. The story is presented through alternating chapters of Piper's journal — an exercise she undertakes to both record what is happening to her and Tash, as well as maintain her sanity — and first-person narration by O'Loughlin. The suspense and tension builds as the events relayed through both methods eventually intersect and continue to the very end.
 
Robotham further enhances the narrative and its unrelenting tension with an array of fascinating characters. Piper's journal intimately reveals how different she is from Tash, and yet how they've managed to remain best friends for so long. O'Loughlin, we learn, has grown tired of exploring the darkest corners of the criminal mind for so many years and thus early on takes every opportunity to turn the case over to some other profiler.
But perhaps sensing that the Bingham Girls are not that different from his own daughter, and still suffering from the sting of his slowly crumbling marriage, O'Loughlin ultimately immerses himself in the search for Piper. Finally, Robotham's kidnapping villain — whom Piper and Tash call George for no other reason than the name seems to fit — is one of the most calculating, cruel and quietly sadistic antagonists we've met in a long time.
 
If there is any disappointing component to this latest work, it is probably the reappearance of Vincent Ruiz — the sarcastic ex-cop who, over the course of a few earlier Robotham novels, has become an odd but reliable ally to O'Loughlin. Here, he acts mostly as a sounding board for O'Loughlin's evolving theories about the kidnapper and the case, while occasionally bullying his way through police procedure roadblocks and providing a bit of muscle when needed. Ruiz's caustic wit is a welcome relief, but his character is sadly underused here. Admittedly, this fault is notable primarily to those who have followed these characters through earlier conflicts.
 
In the final tally, SAY YOU'RE SORRY could be the breakout work that adds Robotham's name to the list of long-established but dependable authors whose thrillers fly off retailers' tables and satisfy both genre and mainstream readers. New readers will also find it a apt introduction to his comparatively modest but expanding list of titles. —Alan Cranis