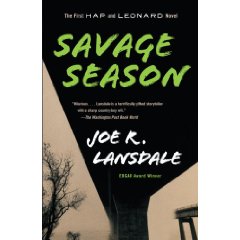 Looking for some reassurence that 2009 might be a good year after all? Here you go: Vintage Crime/Black Lizard is reissuing the Hap and Leonard novels by Joe R. Lansdale — one of Texas's gifts to the world of genre fiction — in attractive trade paperback editions, starting with the first two of the series: SAVAGE SEASON and MUCHO MOJO.
 
Why is that such good news? Well, for one thing, these novels have been sadly out-of-print and damned near-impossible to find for almost 20 years. More importantly, they are among the finest, most unique and dependably entertaining crime novels you're likely to read.
For years, Lansdale has infused his Deep South sensibilities — with all its humor and outrageousness — into dozens of superb horror short stories and novels. But in this series, he brings these same ingredients to stories of crime and suspense, along with two of the most unlikely partners ever created.
 
Hap Collins, the first-person narrator of the series, is a good ol' East Texas white boy whose aspirations have run dry. Leonard Pine, Hap's best friend, is a black Vietnam vet. And gay. Neither Leonard nor Hap has what you could call career goals. So they squeak by working in the Texas rose fields or similar menial jobs, while watching each others' back.
 
As 1990's SAVAGE SEASON opens, Hap and Leonard are out shooting skeet when Trudy, Hap's ex-wife, suddently appears. It's been years since Hap has seen Trudy, and she is still looking real good. So it's not long before she and Hap are back between the sheets. But there's another reason why Trudy has re-entered Hap's life: Her boyfriend, an aging 1960s radical, knows where some serious money is hidden at the bottom of the Sabine River. They need Hap's help to find the dough and use it to renew their revolutionary cause. But Hap, who enlists the reluctant Leonard into the job, makes it clear that he and his buddy are only in it for their cut of the money. And to say that things go wrong is putting it mildly.
 
From 1994, MUCHO MOJO picks up shortly after the conclusion of SAVAGE SEASON. Leonard pulls Hap out of the blistering-hot rose fields with the news that Leonard's Uncle Chester has died. Although they've been out of touch for years — due mostly to Chester's difficulty with his nephew being gay — Chester is still the only family Leonard has. So Hap agrees to travel to Leonard's East Texas home for the funeral.
But while cleaning up Chester's run-down home, which Leonard has inherited, they make a grim discovery: Buried beneath the floorboards is a trunk containing a small skeleton and kiddie porn magazines. The local police are called in and are ready to declare Uncle Chester a pervert and a child murderer. But Leonard can't accept that, so he and Hap venture deep into the poverty-stricken neighborhood to investigate on their own and try to clear Uncle Chester's reputation.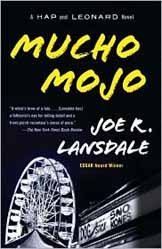 Lansdale's uncanny talents for authentic, yet unforced Southern twang dialogue — as well as his equally authentic portayal of the East Texas locales — are on full display in both of these novels. The exchanges between Hap and Leonard, full of hilarious insults and macho swagger, are the kind of expressions that can only come from two men well aware of the affection they have for each other, but too damned proud to ever admit it. And the East Texas towns and back woods are as dark and menacing as any big city setting.
 
Of these two books, MUCHO MOJO is the more dense and foreboding, as the story involves child abuse, drugs, racism and all kinds of intolerance. But while slightly slower than its predecessor, it manages to make its points without pedantic lecturing, and keeps Hap and Leonard moving to the eventual and twisted source of the murder.
 
These two restored gems are an unabashed joy to revisit. But if you are in the enviable state of discovering them for the first time, you'll find them as addictive as they are satisfying. Not to worry. The next two titles are on their way. And word from the Lansdale homestead is that a brand new Hap and Leonard novel is promised toward summer. See, 2009 just might turn out to be an okay year. —Alan Cranis
OTHER BOOKGASM REVIEWS OF THIS AUTHOR:
• LEATHER MAIDEN by Joe R. Lansdale