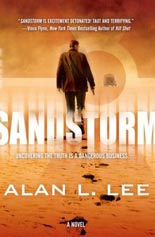 Debut novels like Alan L. Lee's SANDSTORM are what makes reviewing books fun. This novel drops the reader right into the thick of it as a longtime CIA operative is gunned down in her home. Why, the reader is not yet given a reason.
Lee then introduces one of his leads in this political globetrotting thriller: CIA operative Nora Moss, who receives a package addressed to a code name which means that the shit has certainly hit the fan. The package is packed with notes and what might be a conspiracy that goes very high up.
Moss' only choice is to run and find help, knowing full well that people might be on her trail, including her own associates. Having worked as a field agent all her career, she always has been ready for this moment, so she takes off and hopes an old friend of hers will be able to help.
That person is former operative Alex Koves, who also happens to be a former lover. Things are a bit shaky at first when Nora comes a-calling, but its' clear that there is something much larger going on, and Koves is not the type to leave someone dangling in the wind. He puts together a team to find out what exactly is going on.
And what readers think is going on is not; Lee has several clever tricks up his sleeve. He does an admirable job of keeping us guessing. As solid as this debut novel is, there are a few minor speed bumps. The most glaring is that the cast of characters keeps growing and growing, to the point where keeping track can get a little taxing. It eventually makes complete sense as we get closer to the end, but those little hiccups along the way can get bothersome.
Still, the author never falls into techno-babble as so many thrillers do. Everything is very grounded, so readers won't have to worry about encountering technology that only exists in novels like this.
SANDSTORM has a very satisfying ending that is, of course, wide-open for a sequel, since not all the scores are settled. I hope it gets one. —Bruce Grossman