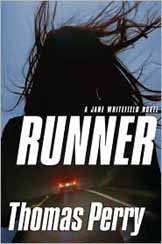 Thomas Perry marks the new year with the return of his sole series character, Jane Whitefield, after a nine-year absence. For those familiar exclusively with the author's numerous stand-alone works, Whitefield is an American Indian "ghostmaker" — that is, someone who helps desperate victims disappear. They seek her out through personal referral, and she accompanies them into a new identity, a new life, and then covers the tracks so they cannot be found. And, as aptly demonstrated in five previous Whitefield novels, she is very good at her work.
So anticipation and expectations and for RUNNER are very high. It's good, which comes as no surprise, considering Perry's career of award-winning and popular thrillers. But therein lies the problem. For an author of Perry's experience and skills, simply being "good" is not good enough.
For the past several years, Jane has lead a peaceful, quite life as Jane McKinnon, wife of Dr. Carey McKinnon, a surgeon in Amherst, N.Y. As the novel opens, she is overseeing a fund-raising event at her husband's hospital. Suddenly, a bomb explodes. In the midst of seeing after the injured, Jane is approached by a young, pregnant girl named Christine Monahan, who quickly explains that the bomb was set off by a team of trackers looking for her. She was referred by one of Jane's former clients to seek Jane out for help. Needing nothing more than the name of that former client, Jane immediately leads Christine into a car and transforms her into a runner.
Once past the scene of the bombing, Jane learns more about Christine's problems: She is pregnant by her boss, Richard Beale, who owns a lucrative real estate business. But when Richard became abusive, Christine fled. Richard called in his team of fixers to find Christine and return her so she and Richard can marry and raise the child together. But Christine realizes the mistakes she's made and cannot imagine any kind of life as Richard's spouse.
Jane wrestles with some hesitancy. It's been several years since she has taken on a runner, and a lot has changed during those years. The Internet, cell phones and heightened security in the post-9/11 world has made it more difficult for a person to disappear and assume a new identity. Plus, Jane herself is no longer a loner. Her love and devotion to her husband makes her happy, but it also makes her and any client more vulnerable. But owning perhaps to her envying Christine's pregnancy — she and her husband have resigned to not having children of their own — she resolves to proceed, so she secures new I.D. documents for Christine and whisks her away to a new apartment in Minneapolis.
Meanwhile, Richard is delivered an ultimatum by his father, the man who founded the business that supports Richard and his lifestyle: He must find Christine and return her so she and Richard can provide grandchildren, or his parents will cut him completely out of the business. So Richard transfers the pressure to his team of fixers, who have already suffered painful defeat thanks to Jane's resourcefulness.
All seems to go according to plan, so Jane leaves Christine in Minneapolis with a new name and essential instructions to forget her former life and friends, and steadily move forward in her new life. Jane promises to return for the birth of the baby and to move Christine and her child to a warmer climate. But after a while, Christine gets lonely, lets her guard down, and falls for an trap that supplies Richard and his team with her new location.
Like the previous Whitefield novels, this is essentially a chase story. The last thing any chase story needs is excessive weight, and RUNNER, at 448 pages, has far too many tangents for its own good. Perry obviously felt obliged to provide us with deeper background and understanding of Jane. No problem there. But he gives almost equal time to everyone else in the novel, including Christine, Richard, Richard's parents and most of the six trackers, too — all proficiently written, but way too much.
Perry is certainly no neophyte and never sloppy. So it's difficult — and frustrating — to accept that he couldn't sense the problem himself. We're not talking total rewrite — rather, some judicious pruning and trimming. A little less backstory here, a shorter dream sequence or reminiscence there, and perhaps not as much hyper-detailing of every move and action, and the results would be a trimmer, tighter, quicker moving story.
Make no mistake: It's fantastic to have Jane Whitefield back. No doubt many fans will be so excited about her return, they will gorge themselves on the abundance of this new book. But before long, they will find themselves getting anxious when they face yet another chapter taking them in a different, unanticipated direction.
Recommended? Certainly. But not up to the usual Perry standards. So be prepared to bring a bit more patience than you usually would to one of his novels. —Alan Cranis