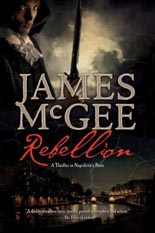 Formerly a Bow Street Runner (the precursor to British policemen), Matthew Hawkwood is now playing a game with much higher stakes. Assigned to a clandestine government organization, he is being sent to France to foment revolution against Napoleon Bonaparte.
REBELLION is James McGee's fourth book in the Hawkwood thriller series, featuring nautical action to rival Patrick O'Brian, adventure to rival Edgar Rice Burroughs, and historical details and accuracy to rival … well, let's just say it's an awesome combination of Regency-period fact and fiction.
A few disgruntled generals and soldiers have been planning on taking over the key elements of the Parisian government while Bonaparte is away. The little general is in Russia, weeks away from being able to return. While he's gone, the usurpers must move. Hawkwood is to facilitate their actions, and if necessary, participate in the revolution.
McGee is an expert at weaving historical detail into his fictional narrative. He does this so subtly, you don't even realize you're acquiring historical knowledge. Hawkwood is, of course, an übermensch, nearly unstoppable in his heroics, but likable enough with his disdain for authority and his self-deprecating attitude.
Dialogue is reasonably well-done, but the action scenes are truly stellar, conveying sometimes complicated scenes with brisk and clear language. If you haven't sampled McGee's Hawkwood series, give it a try. It's some of the most exciting historical fiction being written today. —Mark Rose