Because time isn't always kind: economic reviews in a world full of waste … and today, an all-comics edition!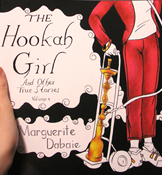 Marguerite Dabaie offers a few quick glimpses into the life of a Palestinian living in America in her autobiographical comics collection THE HOOKAH GIRL AND OTHER TRUE STORIES: VOLUME 1. These eight brief confessionals and remembrances include watching the elder women in her family rolling grape leaves; the time her one-legged, surly uncle scared everyone at her birthday party; an incident in which someone told her an anti-Palestinian joke, not knowing she was one; and indifference as to which perspective of her race she feels she is most like. Even with political overtones, Dabaie's work is loose and funny. And with a range that veers from cartoony to near-photographic, this girl can draw!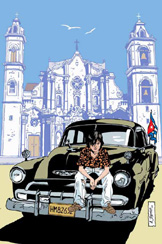 From the first two issues of SCARFACE: DEVIL IN DISGUISE, it's evident that comics is an ideal medium for telling a prequel story of cinema's favorite coke dealer, Tony Montana. It shows him as a young boy in Cuba, being left behind by his mom and meeting his right-hand man Manny. It also shows him as a young man, being tortured and practicing a hobby of decapitating his enemies. The only downside is that the book constantly jumps back and forth throughout time, so no definitive story yet has taken shape. Instead, we get fragments that eventually will add up to a finished whole, kinda like channel-surfing. For rabid fans of Brian De Palma's movie – and there are plenty, although I'm not one of them – this should satisfy. Joshua Jabcuga's words accurately capture the film's grimy tone, and Alberto Dose makes his nice art cinematic with slightly washed-out colors.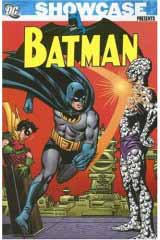 Pick up SHOWCASE PRESENTS BATMAN: VOLUME 2 if you liked VOLUME 1, because it's 500 more pages of the same 1960s insanity and inanity, obviously both influencing and influenced by the then-phenomenal TV show. In these adventures from DETECTIVE COMICS and the Caped Crusader's own title, Batman and Robin grapple with doubles, a Hulk-ish Blockbuster, flying rocketmen, a guy in a cheap skeleton costume (even in the courtroom!), a guy with a wolf's head, the Riddler and even that hot bitch Poison Ivy. In the craziest story, Joker's sidekick is a dwarf named Gaggy. In the silliest story, our heroes fight The Eraser, a man with a mask shaped like – yep – a giant pencil eraser. In the most self-referential story, writer Gardner Fox breaks the fourth wall to directly address the reader, asking what would happen if Batman died? And in just about every story, the boys throw out a pun while fighting (example: Robin kicks a baddie and quips, "Now I'll serve up a helping of soles!"). Oh, and Alfred the butler comes back to life. Sometimes overly wordy, but fun for all.
Heavy in subject matter and weight, the David Kendall-edited THE MAMMOTH BOOK OF BEST WAR COMICS is a multicultural, decade-spanning anthology of 26 tales of rarely glorified combat from real-life battles both old and new. It opens with Keiju Nakazawa's "I Saw It!," a slightly primitive but knowing account of being a child in Hiroshima when America dropped the bomb. Other highlights include two late-career bits from Will Eisner, John Severin's WWII-set "Souvenirs!" and a short Vietnam saga from Archie Goodwin and Joe Orlando. The best part is the color section in the middle, reprinting three Dell comics in color – yellowed pages and all! – from AIR WAR STORIES and COMBAT, all drawn by Sam Glanzman. You'll learn more about Pearl Harbor from his story than any textbook. What's interesting is that no matter what decade, what country or what mindset – mainstream, indie or underground – the entries come from, the message pretty much stays the same: War is hell.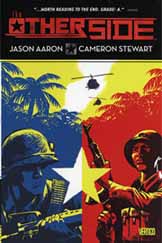 Speaking of that, more than any movie I've ever seen or any book I've ever read, Vertigo's five-issue THE OTHER SIDE brings the horror of the Vietnam War home. The fact that it holds eerie parallels with what's going on in the world today makes it that much more powerful. Written by Jason Aaron and drawn by Cameron Stewart, the graphic novel tells the story of two soldiers on two different sides: one American, one Vietnamese. Though they've been conditioned by their respective countries to hate one another, they actually have a lot in common: fighting someone else's war. Then there are the rotting corpses that hang around and tell the cornpone hick to kill. This is harrowing stuff, expertly penned and illustrated. –Rod Lott
OTHER BOOKGASM REVIEWS OF THIS SERIES:
• SHOWCASE PRESENTS BATMAN: VOLUME 1
• SHOWCASE PRESENTS THE BRAVE AND THE BOLD BATMAN TEAM-UPS: VOLUME 1
• SHOWCASE PRESENTS CHALLENGERS OF THE UNKNOWN: VOLUME 1
• SHOWCASE PRESENTS THE ELONGATED MAN: VOLUME 1
• SHOWCASE PRESENTS GREEN ARROW: VOLUME 1
• SHOWCASE PRESENTS THE HAUNTED TANK: VOLUME 1
• SHOWCASE PRESENTS THE HOUSE OF MYSTERY: VOLUME 1
• SHOWCASE PRESENTS THE HOUSE OF MYSTERY: VOLUME 2
• SHOWCASE PRESENTS JONAH HEX: VOLUME 1
• SHOWCASE PRESENTS LEGION OF SUPER-HEROES: VOLUME 1
• SHOWCASE PRESENTS METAMORPHO: VOLUME 1
• SHOWCASE PRESENTS THE PHANTOM STRANGER: VOLUME 1
• SHOWCASE PRESENTS SHAZAM!: VOLUME 1
• SHOWCASE PRESENTS SUPERMAN FAMILY: VOLUME 1
• SHOWCASE PRESENTS THE UNKNOWN SOLDIER: VOLUME 1
• SHOWCASE PRESENTS THE WAR THAT TIME FORGOT: VOLUME 1