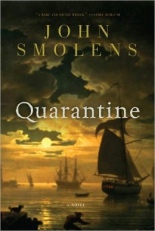 Fans of historical fiction should appreciate John Smolens' QUARANTINE, a riveting tale of a Northeastern port city set in the late 18th century. It's populated with memorable characters, has an evocative setting, and tells a harrowing tale of medical inadequacy that's appropriate for the time.
In Newburyport, Mass., a cargo ship lies in quarantine, some of its crew afflicted with an unknown "fever." Dr. Giles Wiggins attempts to halt the spread of this fatal malady, but it quickly begins to rage through the town. Prevention and cure is difficult, for no one really knows the actual cause, and competing methods of treatment (bleeding or putting hot stones on the body) not only seem counterintuitive, they could be increasing the risk of transmission and preventing recovery.
In the midst of this, the town's apothecaries are robbed of even their most primitive medicines, and some entity is holding these medicines in ransom to the town for a significant amount of money. Will Wiggins and his helper, the remarkable young man Leander Hatch, whose entire family was wiped out by the fever, be able to halt the rising death toll?
This is a thoroughly enjoyable book with a truly dynamic arc for some characters. While the villains seem a little too one-note, the sympathetic characters are well drawn and the story rolls along with teeth-gritting suspense and an outcome that is always in doubt. It's not really a mystery. While there is a crime, there is little detective work and the police force in place is, shall we say, malleable as to whether it is on the side of good or evil.
If you love the time period and you have any appreciation for historical fiction, you'll enjoy John Smolens' QUARANTINE. —Mark Rose