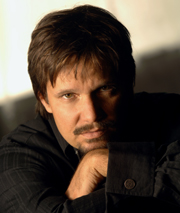 In mid-April, Ted Dekker spent a day in Oklahoma City meeting area booksellers and pushing his latest thriller, SKIN – his first to land on the New York Times bestseller list. I met Dekker over lunch at OKC's ever-popular Iron Starr Urban BBQ – he had ribs, I had a burger topped with chili and smoked sausage – and we talked about his rising career as a full-time novelist, particularly SKIN's switch in bookstore placement from the Christian fiction shelf to the one for all mainstream thrillers. The following represents just a few choice passages from more than an hour of conversation.
BOOKGASM: The first thing I wanted to ask you is if SKIN's move away from the evangelical was deliberate. Because I noticed it.
DEKKER: The only difference between SKIN and some of my other novels is that the subject matter is more general: truth and beauty. SKIN is more of a straightforward thriller. It has no Christianity in it at all, but neither do some of my other novels. That's kind of how my novels are and that's how they'll be stocked from now on. All will be sold and marketed in Christian bookstores, as well as at Barnes & Noble and Borders.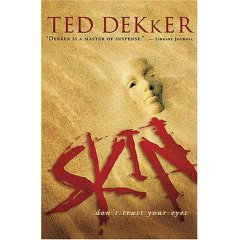 BOOKGASM: Did you find that being labeled as a "Christian author" limits your audience, brings you an audience you otherwise might not have, or a little of both?
DEKKER: I'm grateful to the Christian market … but it definitely limits your audience. But, like any genre does, it helps define you for that audience.
With my stories, some of them are more romantic, others are thrillers, and then I do fantasy as well – so part of my brand is you never know what you're going to get. That's part of the appeal.
My stories are kinda like mirrors: You look in them and you're going to see yourself. But depending on who you are, you're going to see something different. What you do beyond that is essentially your concern, not mine.
BOOKGASM: And now you're writing for kids as well.
DEKKER: I'm writing fantasy through a young adult brand. I have two coming out in Feb. 2008. One's called CHOSEN, the other's called INFIDEL.
BOOKGASM: Among all these genres, do you have a preference?
DEKKER: I like writing stories that keep me engaged. Writing is a love-hate relationship. It's very difficult, it takes a lot of discipline, but the exploration, I love.
My next one is called ADAM. It explores near-death. It's another story about a psychopathic killer who kills a behavior psychologist who's interested in him. I want to know what happens when you die and then are brought back to life?
In my stories, you hear based upon what you hear – not what I've shoved into the novel. I'm not cramming anything down anyone's throat. I'm putting a story out there that can be interpreted different ways. It will be a honest examination of human nature and the struggles we face every day: good and evil.
BOOKGASM: Meanwhile, you're also venturing into graphic novels, based on your book BLACK. Do you think that's a viable medium for your writing?
DEKKER: Absolutely. I don't know how popular it will be, but it's definitely cool. It's kinda like doing a movie: It's amazing to see your characters actually come to life.
BOOKGASM: And speaking of movies, your books are starting to adapted for the big screen, first with THR3E and now HOUSE comes out this October. Are you happy with the way they've turned out so far?
DEKKER: Movies: It's a whole different art form, so for me, it's all about telling this story. I wasn't actively involved in THR3E, so I watched that from a distance, but HOUSE I'm more involved.
My objective is to get better with every movie. It's like starting over; it's a journey. Am I satisfied? Are you satisfied with the way you raised your first child? You may have made mistakes, but that doesn't mean you're not satisfied. You don't want to throw them back. You can't say, "I hate that." At least that's not the way I approach it.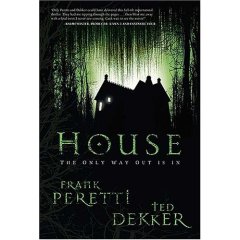 BOOKGASM: I'm looking forward to HOUSE. I really enjoyed the book.
DEKKER: I lost a lot of older readers with that one. I lost of a lot of older readers when I went from my older style that was more intensely spiritual to more parables. When Jesus told parables, he didn't even explain them so much or mention God.
BOOKGASM: Whereas kids are more likely to respond to the more parable format.
DEKKER: Have you read George Barna's book REVOLUTION?
BOOKGASM: No.
DEKKER: In that book, Barna writes that within the next 10 years, 60 percent of those currently going to church will stop going, because the church is becoming or already has become irrelevant in our culture.
They're not speaking the language of the emerging culture. Most youths sit in church services and are cynical in the way it's presented to them, even if they believe in the truth itself.
BOOKGASM: Lastly, to switch gears completely, you're also going to be co-authoring mysteries with a female author. How will these compare to your solo works?
DEKKER: It's not Ted-light, but it's not Ted-heavy. It's kinda like mild salsa: It's not going to burn you, but you're definitely going to taste it. –Rod Lott
OTHER BOOKGASM REVIEWS OF THIS AUTHOR:
• HOUSE by Frank Peretti and Ted Dekker
• SAINT by Ted Dekker
• SKIN by Ted Dekker
OTHER RECENT BOOKGASM AUTHOR INTERVIEWS:
• Q&A with FISH OF SOULS' Gary Williams
• Q&A with GHOST RIDER's Greg Cox
• Q&A with 9TAIL FOX's Jon Courtenay Grimwood