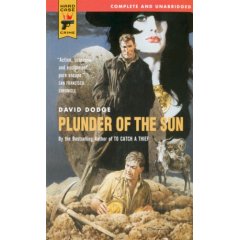 Of all the novels in the Hard Case Crime line thus far, the reissue of David Dodge's PLUNDER OF THE SUN from 1949 offers something a little different than the usual grifts and gunplay: high-stakes adventure.
The basis for the 1953 Glenn Ford movie, PLUNDER centers around one of Dodge's series characters, adventurer-for-hire Al Colby. He reluctantly accepts a job to smuggle a package from Chile to Peru. He's assured the cargo is not criminal, but a murder on the boat trip to Peru convinces him his situation is no less dangerous than if it were. As it turns out, Colby's carrying three pages of an ancient manuscript believed to lead to buried treasure, namely Inca gold. It's the kind of find that many would kill for, and do.
There are few thriller scenarios more fun than a treasure hunt, as PLUNDER's rip-roaring pace proves. The fact that it's all set in South America gives it even more flavor, with Dodge (best known for TO CATCH A THIEF) inserting enough local detail to lend it authenticity without becoming a dry travelogue. The plot is thicker and the language richer than the customary Hard Case offering (no knock to any of them, however), and even with all the double-crosses and triple-crosses, Dodge's narrative never ends up where you first might think. It's amazing that PLUNDER, at more than 55 years old, is as vibrant and thrilling as ever.
Until this edition, Dodge's work has long been out of print. Thankfully, Hard Case will continue to rectify that. –Rod Lott
Buy it at Amazon.