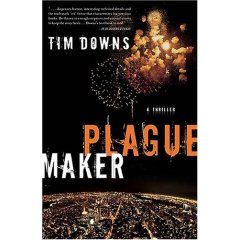 Between anthrax and bird flu, viruses are big news these days, which makes the virus thriller more potent than ever. Case in point: Tim Downs' third novel, PLAGUEMAKER. Five years ago, its premise would seem silly and far-fetched; nowadays, it seems like a "just a matter of time" scenario.
Desiring payback for the atomic bomb that killed his sister back in World War II, a Japanese madman named Matsushita plots the release of a biological weapon over New York City via a fireworks display on the Fourth of July. FBI agent Nathan Donovan is tipped off to the terrorist's plans by an elderly Chinese man. This Mr. Li has his own reasons for revenge on Matsushita, and only agrees to disclose what he knows if Donovan promises to take him along on the search. Reluctantly, he does.
Because of the psychological nature of hunting such a criminal who threatens to unleash a horror more devastating than the Black Plague, Donovan is forced to work with his ex-wife Macy, an international relations professor at Columbia. Though the trappings of the genre lead their relationship down the road toward repair as you would expect, their dialogue (and banter) is more realistic than one usually finds in thrillers, and it grounds the work.
So do the scientific details of the crime, from fleas to flammables, well-researched and spelled out in an entertaining, Crichton-esque manner. Though lots of virus novels take great pains to do the same, few have the tightly wound plot going for them as Downs does here. The speed is close to breakneck, and the tension – particularly in the final 100 pages, where that kind of thing counts – is as palpable as its story is plausible. The result greatly outshines more high-profile virus thrillers of late, like SLATEWIPER and THE XENO SOLUTION.
Though you wouldn't know it by description, PLAGUEMAKER falls into a relatively new niche market called "evangelical fiction." What does this mean? In this case, that you get a reference to David and Goliath and a character with faith who's not portrayed as a nutjob, so don't think that label suggests something of less quality, where the story takes second chair to a sermon. There's also no profanity and no sex. But with as much action and suspense as are going on here, you won't miss them. –Rod Lott