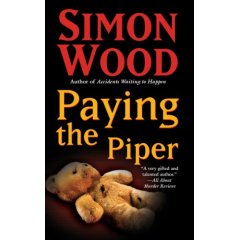 A great thriller should be like sleight-of-hand: You know it's a trick done with misdirection, but you're still be fooled every time. Simon Wood's second novel PAYING THE PIPER pulls this off so effortlessly, tugging the wool in front of our eyes.
Scott Fleetwood is a reporter who made a name for himself eight years ago as the only contact for a mysterious kidnapper only known as The Piper. Fleetwood figured this was his chance for a Pulitzer, as The Piper kidnaps sons and daughters of the wealthy – never harming his victims and playing by a certain set of rules. That all changed when the man Fleetwood believed to be The Piper was a phony, causing the death of an innocent victim, then disappearing for years, leaving Fleetwood and the FBI to be blamed.
Flash-forward to the present: The Piper is back with revenge on his mind, and his plot involves taking one of Fleetwood's kids. Once that happens, a vast amount of problems turn up for Fleetwood, in that he now will be dealing with some of the same FBI agents he kept information from. On top of this, The Piper somehow slips a cell phone to Fleetwood with his own idea of how Fleetwood will be getting his child back.
It's an amazing cat-and-mouse game, with The Piper being a step ahead of everyone else. Fleetwood is sent on a chase, all the while trying to evade the FBI agents who are his babysitters, with The Piper playing two ransom games: The one of making Fleetwood raise $2 million in cash with the FBI's knowledge, and another of having him tying up some loose ends – including tracking down the false Piper – without anyone else's help.
This is such a finely crafted thriller, you'll finish it quick. Wood has weaved the story so well that when the truth comes out, it will surprise the majority of the readers. And that's the best kind of thriller writing that we need more of. Wood is a name to watch in the genre: not one to use the tired clichés, but coming up with fresh ideas. –Bruce Grossman
OTHER BOOKGASM REVIEWS OF THIS AUTHOR:
• ACCIDENTS WAITING TO HAPPEN by Simon Wood