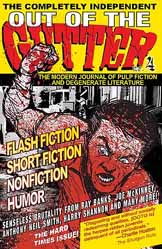 When's the last time reading material kicked you in the balls and laughed as it left you vomiting on the sidewalk? I'm guessing it was the issue just prior to the just-released OUT OF THE GUTTER #4. Yes, the indie "modern journal of pulp fiction and degenerate literature" is back with another 200 pages of stories and article so rough-and-tumble dirty, you'll need a shower afterward … during which it will come back and rape you.
This is all a good thing, of course, being made a book's bitch. Editor Matt Louis has deemed this "The Hard Times Issue" – timely that – and the contributors run with the loose theme. As always, the mag begins with a flash fiction section, where Robert T. Lord offers "For I Have Sinned," in which a mother's confession to a priest who apparently has ignored his own advice of "Do unto to others …"
John Millikin gives us "The Hard Way," which is one of the worst-punctuated and atrociously spelled stories I've ever read … but it's for a reason – and a damned good one. (Millikin also a longer piece later, "Trent & Me," about how two best pals don't make for the best convenience-store robbers. Both contributions show off his darkly comic instincts.)
Clair Dickson returns with "Bad Dream," another adventure for her female P.I. series character Bo Fexler, who uses her sexuality to extremes. This one hinges on a strawberry-flavored condom. I love these Fexler stories. I can't get enough of them, and it is my hope that Dickson intends to collect them into an anthology someday (soon).
Moving into the longer stories, M.C. O'Connor helps get things going with "Lonnie's Ride," with the attention-grabbing first line "Carleton looked like the Thalidomide spawn of an elephant seal." It's the tale of a Lonnie, a young man who steals a bunch of drugs from Carleton and skips town, catching a ride with a trucker who keeps propositioning him sexually and then claiming "just kidding" when Lonnie freaks out. You can only pull that so many times.
In "Along Comes Mary," Harry Shannon's death-row inmate confesses just prior to getting the needle about the hit that put him behind bars: It entailed a guy getting revenge on his childhood babysitter. Meanwhile, Josephine Damian gives us the most uncomfortable – but perfectly readable – "Pennies from Heaven," where a landlord collects overdue rent from a farmer's wife … but he takes neither cash nor check.
Anthony Neil Smith has fun with "The Movie About That Guy," alternating between excerpts from a screenplay and the narrator's comments on how it differed from the real-life events on which it was based. He should know, because he lived it, right down to the not-so-Hollywood ending. Let's just say sex is involved; I'm certain that's enough of an incentive for you to find out what went down.
A man with connections to the Mexican mafia requests the help of the narrator of Joe McKinney's "Dodging Bullets" to dispose of two dead hookers. He'll regret pitching in, of course. Similarly, "Rules" from Justin C. Gordon involves a wannabe writer schooled by his Hispanic construction coworkers on how to rob his first house.
Treading decidedly more comedic waters, two flavor scientists hire one prostitute for a most bizarre experiment – oh, just trust us – in Miracle Jones' "A Dab of Honey." And Hana K. Lee delivers perhaps the most unique and enjoyable piece in the bunch with "Lopsided Sweater," in which a woman wants revenge on the doctor who improperly augmented her breasts (or one of them, as the case may be).
On the nonfiction side of things, Heather Waters provides an essay about her rape fantasies, while GUTTER regular/prison journalist Seth Ferranti discusses "hobocore" among the new breed of homeless train-hoppers. This fronts an unofficial section on hobos, including an excerpt from an old Jack London book. Yes, that Jack London. And Daniel Ritchie's "A Day in the Life" wonders what would happen if an Internet entrepreneur offered dollars to the down-and-out to brawl for the chance to bank cake, all for the enjoyment of web surfers.
Among the odds and ends are the usual fake ads, more satirical than past efforts; a one-page comic that succeeds in amusing; and a not-so-easy crossword puzzle, for which there is no answer key. Because, hey, that's just how GUTTER plays. You don't like it? Go to hell. –Rod Lott
OTHER BOOKGASM REVIEWS OF THIS SERIES:
• OUT OF THE GUTTER #1
• OUT OF THE GUTTER #2
• OUT OF THE GUTTER #3
OTHER BOOKGASM REVIEWS OF THESE AUTHORS:
• JACK LONDON'S TALES OF CANNIBALS AND HEADHUNTERS by Jack London
• YELLOW MEDICINE by Anthony Neil Smith