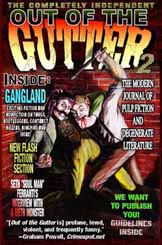 Just as the cover images warns, OUT OF THE GUTTER #2 will beat you senseless with 200 pages of tough-as-nails fiction that punches straight for the gut. It's even an improvement over the near-perfect first issue. Plus, as editor Matthew Louis' introductory letter tantalizes, "We've got whores."
Changes are slight, mainly being the upfront inclusion of a "flash fiction" section consisting of eight super-short stories. If you don't like any of them, you've only invested no more than a page or two. But if you don't like any of them, you're reading the wrong magazine, because they're all dive-right-in terrific, starting with the opening line of John McFetridge's drug-smugglin' "Plugged": "Summer had seen bigger dildos."
"Hit Me," about a woman who earns her living getting beat up for cash, suggests Christa Faust has been wasting her time with New Line movie novelizations and that her upcoming Hard Case Crime novel MONEY SHOT is going to be a must-read. A picked-upon janitor gets some devious revenge in the corporate-set "Yellow Pellets" by Randall Rohn, and a would-be rapist talks about "The One That Got Away" in Jacob Kohl's quickie. Other flashers involve arson, lost manuscripts and fast-food French fries.
Next up is a section of "10 Minute Read" stories, starting with William Boyle's disturbing, sexually charged "Neighborhood Girl," followed by the even-better "Professionals," in which Michael Bracken spins a story of a male prostitute who gets into big trouble with one of his johns. J.D. Smith's "The Flower Girl" lays out an amusing case of wedding-set entrapment, and Grant McKenzie's ice-cream man offers other, stickier services in the franchise-ready "White Volcano."
Among these and the four other stories in this section, however, the character I most want to see make repeat visits to GUTTER's pages is Bo Flexer, the loose-moraled female P.I. in Clair Dickson's "The Pleasure Business." Its unapologetic mix of sex and crime best personifies the intent behind this entire project.
This issue's centerpiece is a "Gangland" section, with four pieces of fiction involving gangs and Mafia types. It begins with John Rickards' tongue-in-cheek "Vengenace of Mine," whose lead character is Jesus Christ. No, really – Jesus Christ, as in the guy who died for your sins, "so show a little fucking respect." Ken Goldman takes the prize, though, with "Fat Larry's Night with the Alligators," a classic gangster tale of dead-body disposal, double-crossings and devilishly hungry reptiles.
Four new stories comprise the "15 to 20 Minute Read Department," including the surprising inclusion of Steve Alten, author of the bestselling MEG series. I say "surprising," because let's face it: The guy specializes in underwater thrillers involving prehistoric creatures. But with "Lost in Time," he marries his love of the deep with a con man's revenge. Fitting perfectly, the result is exciting and among the mag's very best pieces.
The non-fiction articles this time out are all interesting, starting with bartender Edwin Decker's tips on what to do and not to do if you're among a pub's last patrons of the evening. Seth Ferranti interviews a two-decade meth user in prison, and E.E. Howard traces the origins of organized crime in America in a lengthy, well-illustrated essay. But the best is "Hooked," Dale Bridges' interview with a hooker in Prague and a discussion of his fascination with the "idea of vaginal currency," even if the thought of partaking holds no appeal with him.
Once again, there's a smattering of amusing filler, including sidebars, an R-rated poem, fake ads and comics. The next issue needs to include more of the latter, but it's hard to nitpick with so damned much to read. This issue is a wealth of "degenerate" fiction – one that'll you want to devour in a day. –Rod Lott
OTHER BOOKGASM REVIEWS OF THIS SERIES:
• OUT OF THE GUTTER #1
OTHER BOOKGASM REVIEWS OF THESE AUTHORS:
• THE LOCH by Steve Alten
• MEG: PRIMAL WATERS by Steve Alten
• SNAKES ON A PLANE by Christa Faust