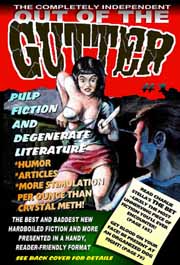 Pulp fiction makes a dirty, dirty comeback in the premiere issue of OUT OF THE GUTTER, a new, "completely independent" magazine that promises dangerous "degenerate literature" and "hardboiled fiction," and then spends 200 pages delivering just that.
I'm not sure why they're calling it a magazine, since it's a perfect-bound trade paperback on high-quality paper, but they can call it whatever they want. I don't wish to have my ass kicked.
The layout leaves more than a bit to be desired, having an amateurish, almost sloppy quality, but any reservations are quickly dashed aside once you start reading the lead story, Victor Gischler's "Final Tally," which is kind of a one-man DEATH RACE 2000. J.A. Konrath's "Punishment" also recalls a blood-drenched cult classic –  HOSTEL – but with a politically incorrect twist ending.
Enigmatic editor M.L.B. contributes "I Saw Red," a funny and note-perfect look at what a day of kindergarten might have looked like for Mickey Spillane, while Todd Robinson's "Dirty Laundry" amusingly involves a missing persons case and an irate Asian laundress.
D.Z. Allen provides a real highlight with "Spring Break in Mexico." Drenched in sex and sin, this tale of two college football players at a Mexican whorehouse probably best sums up the collection's "fuck you" attitude, determined to make you have a good time while rubbing your face in it. Coming in a close second is Charlie Stella's "The Bet." Let's just say "Russian mob" and "flatulent hooker," and leave it at that.
Other stories deal with things like hit-and-runs, staged dog fights, fatal love triangles and an errand list that includes an order to "kill Gran."
There are a few nonfiction pieces, including two from Seth Ferranti on life behind bars – one dealing with survival, one on the vicious cycle of heroin. Billy Elizondo contributes the third, on the notorious Leopold & Loeb murder.
And there's even more, with fact-filled sidebars, two comics (one of which finds The Crocodile Hunter in heaven), ad parodies (mostly unfunny) and the occasional offbeat poem. OUT OF THE GUTTER is nothing if not full of stuff to ingest.
While it's great to see indie guys taking a chance on such a project, it's even greater to see that project work. The boys residing in THE GUTTER are to be commended for pulling it off, and then harassed to get off their asses and shit out a second issue, pronto. Buy one, read it in public, raise eyebrows and be proud. –Rod Lott
OTHER BOOKGASM REVIEWS OF THESE AUTHORS:
• SHOTGUN OPERA by Victor Gischler
• THESE GUNS FOR HIRE edited by J.A. Konrath