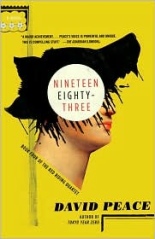 Finishing David Peace's NINETEEN EIGHTY-THREE was no easy task, and even now, I'm not quite sure how I feel about it. The fourth in his "Red Riding Quartet" (following NINETEEN SEVENTY-FOUR, NINETEEN SEVENTY-SEVEN and NINETEEN EIGHTY), it certainly satisfies any reader seeking a mystery, horror or crime novel, but having not read the first three books in the series, I finished feeling thoroughly lost.
The novel centers around three principal characters: Maurice Jobson ("The Owl"), a corrupt police inspector; John Piggott, a local lawyer; and BJ, a local skinhead. Peace's unique writing style is apparent within the first three chapters, as each character's story is told from a different narrative perspective, with Jobson in the first person, Piggott in the second, and BJ referring to himself in an odd, grammatically incorrect third person.
Mixed in with these changing narratives is a on-and-off stream-of-consciousness and clever repetition of phrases, passages and entire conversations and interactions, emphasizing the corruption, violence and emotional scarring surrounding the disappearance of several local girls (as well as the proceeding investigations, trials and sentences).
Unfortunately for me, this novel absolutely requires extensive previous knowledge of the first three books. The storyline bordered on incomprehensible, skipping from one victim to another, one year to another, one narrator to another. I found myself turning pages, convinced that if I just kept reading, it would start to make more sense. Sadly, I ended the book still uncertain of who committed which crimes, and how the three main characters related to one another.
Despite this, NINETEEN EIGHTY-THREE proved its worth as a truly haunting work of crime fiction, grasping parts of British culture with two hands and refusing to let go, centering on aspects of corruption, cover-ups and violence that many authors might find difficult to write in the first place, let alone all at once. although the novel was confusing and I found myself flipping back and forth between chapters (or wishing for an index), Peace's genius as a crime writer shone through: His style is unique, unstructured, clever and complicated, but clear. His characters are strong, or they are weak, but they are consistent, well-developed and deep.
I would recommend his work, but only starting with the first of the quartet and working through. Although the novels are long, the success of the fourth suggests that they would be worth it. Just be ready to take notes. And prepare for some chills when reading. —Kerry Serini
OTHER BOOKGASM REVIEWS OF THIS AUTHOR:
• NINETEEN SEVENTY-FOUR by David Peace
• OCCUPIED CITY by David Peace