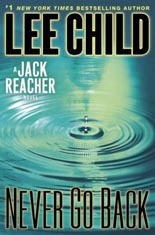 Maybe Lee Child thought that for his 18th Jack Reacher novel, he'd shake things up a bit and have the one place that comes closet to being a home to Reacher turn against him. That seems to be the main premise of NEVER GO BACK, but the anticipated results are something other than expected as Reacher continues to be, well, Reacher.
 
Maj. Susan Turner, commanding officer of Reacher's former outfit, the 110 Military Police, has been little more than a warm, inviting voice on the phone (since Child's 61 HOURS of 2010). So Reacher makes his way from South Dakota to the northeastern Virginia offices of the 110th, hoping to meet Turner and maybe ask her out to dinner. When he arrives, however, not only has Turner been "reassigned," but a few other surprises await him.
Reacher is informed he's been reactivated to military status — a fine-print provision of his discharge he was never aware of — and immediately hit with two criminal charges: one a murder charge stemming from an investigation into East Los Angeles some 16 years ago; the other, a paternity suit from a woman Reacher hardly remembers. As a result, Reacher is ordered to stay within the confines of the 110th offices.
 
Reacher senses something is going on under the surface of these strange events, so he investigates behind the scenes to get to the truth of the charges. Not long after, he frees Susan from prison and the two begin a cross-country chase to get to the root of the charges against Reacher. Along the way, they discover who is behind the recent command turnover at the 110th and the clandestine scheme that goes all the way to the current military activities in Afghanistan. 
 
Introspection has never been part of Reacher's profile, so hardly any time is devoted to the ironic and disorienting reality that his former military command — and indeed, the organization that comes closest to defining him — is now his nemesis. Instead, Child has Reacher do what his longtime fans know he does best: bumping heads, kicking ass and speculating on who or what is behind what's going on only during the time between violent encounters.
 
These same longtime fans will rejoice at the realization that Reacher is as tough and intractable as ever, and that Child's to-the-point prose is as vigorous and stoic as the earlier adventures, but manages also to include just enough description of the various locales to convince us.
 
Still, NEVER GO BACK does allow Reacher to express his acute sense of self-realization. In the few quiet moments of dialogue between Reacher and Turner, Reacher confesses that his fight-or-flight reflex has always favored the fight for as long as he can remember. This and similar confessed realizations cause Turner to reassess her first impression of Reacher as "feral" with little or no depth.
Readers might find it hard to accept that Reacher's exquisite physical condition — right down to his six-pack abs — comes naturally and not as a result of workouts at the gym or other disciplined regimen. Finally, and perhaps most notably, Reacher briefly recalls his past and expresses his conception of fatherhood as he comes close to meeting the supposed teenage daughter he never knew he had.
 
So while NEVER GO BACK may not be the novel we expect, it is without question, as the cover and spine assert, "A Jack Reacher Novel" — nothing altogether wrong with that. Yet it's the little unexpected moments of personal and near-humble realization that the author allows his popular protagonist to express that make this latest novel particularly noteworthy. —Alan Cranis