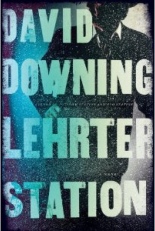 In LEHRTER STATION, David Downing's fifth novel featuring British journalist John Russell, he pens for us an awful and awesome picture of post-World War II Berlin in the year 1945.
Russell, who sold his soul to the Soviets so he could escape with his family, now must pay the price and is recruited by Soviet intelligence to return to Berlin in order to spy on certain "comrades" who may or may not appreciate the strict party line. Feeling trapped by the Soviet spymasters, Russell decides to play a dangerous game in cooperation with his Soviet control. Both of them fear the Soviet dictatorship, and so they also decide to work with the Americans in an effort to eventually escape the grasping tentacles of intelligence work.
This espionage thriller really doesn't have much of an overarching plot. Instead, it focuses on the ravages, both physical and emotional, of post-war Berlin. It's a world where Victims of Fascism, i.e. Jews, now command a ration card that gives them more food than regular citizens. It's a world where lives and virtue are cheap, easily exchanged for a pack of cigarettes. It's a world where civilization is trying to restore itself but keeps running into insidious black marketeers.
In this world, Russell and his companion, Effi Koenen, move with a daring and decisiveness few of us could muster. Thrilling set pieces act as counterpoint to the tales of dogged legwork as both scour the city for lost relatives and friends. In every direction, there seems to be an obstacle. Sometimes the Americans help, other times they act just as bad as the Germans and Soviets. It's a moral quagmire, and Russell doesn't come out particularly clean.
LEHRTER STATION takes a little time to explore some of these moral ambiguities, but the real joy is in the book's thriller aspects, threats on the lives of both Koenen and Russell, intense action scenes, and the constant dread of having one's cover blown. If you're a fan of spies and thrillers, this is for you. The unique setting of just after the war in Berlin is an intriguing plus. —Mark Rose