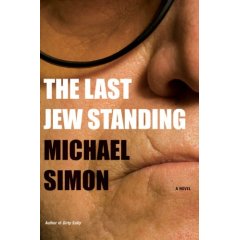 THE LAST JEW STANDING is the fourth entry of Michael Simon's Dan Reles series. New readers will find themselves a bit lost right away, but Simon does a fine job bringing people up to speed, hinting at only minor spoilers.
Reles is a cop in Austin, Texas, whose wife ran away from him years ago when she was pregnant with his child, only to come bouncing back into his life. Her other problem is that she goes off on a few benders a long the way. This alone leaves Reles dealing with more baggage than American Tourister. What adds to his problems is the sudden reappearance of his ex-con father, estranged for more than 15 years. Not only does Dad show up unannounced, but he has with him a 20-year-old Russian prostitute.
Like I said, Reles has a lot of problems, even further complicated by news of a dead man in his old hometown of Elmira, N.Y. This is what drives the plot, since it turns out he and the elder Reles are on the run from one of his father's old bosses: Sam Zelig, who makes even the most psycho mob guy look like a pussycat.
He is of the old-school mob, and the last Jew of the title. We are given glimpses of the cruelty Zelig will unleash. He is not a man you'd want to cross, even if he is in his 70s.
It's a modern take on the noir world, where even the good guys have to do things they know are bad, just for the greater good. Even though there are moments in the novel where you know what will happen, THE LAST JEW doesn't overreach like other detective books. The plot is based in reality all the way – not some fantasy world where people can just run around bashing down doors, guns a-blazing. The well-crafted plot gives enough thrills along the ride. I would go as far to say this book is in its own sub-genre: that of Yiddish noir. –Bruce Grossman