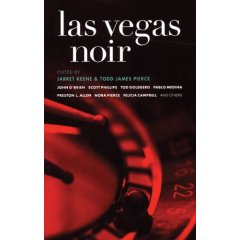 If there ever were a town ready-made for the NOIR anthology series from Akashic Books, it's Vegas. From the introduction of LAS VEGAS NOIR, editors Jarret Keene and Todd James Pierce nail it perfectly, bringing up that some of the true crime that happens there could fill a book of its own. We're not just talking about the founding of the city, but some current high-profile cases. Like other books in the series, it's spilt up into three categories with a running theme.
The first section, "Sin City," collects five stories all dealing with people who have made Vegas their life, even if they don't like it anymore. Starting out is John O'Brien's "The Tik," about a self-destructive couple on a night out on the strip. They seem to be playing their own game of preying upon people. O'Brien is probably best known for writing the book LEAVING LAS VEGAS; two days after being optioned for the Oscar-winning movie, he took his own life.
A complete opposite of characters make up David Corbett's "Pretty Little Parasite," which tells the story of a low-level drug dealer and what she thinks will be just another deal — leading to a great reveal. Tod Goldberg has an enjoyable little tale called "Mitzvah," with a former hitman who now has to work as a rabbi in Vegas. It's a very dark comic tale that made me laugh out loud a good many times. "Babs" by Scott Philips is another story of drug operators — this time with the narrator looking back on a simple pick-up that could have gone wrong in a big way.
The second set of stories deals with the "Neon Grit," aka casino life, starting with Pablo Medina's "Benny Rojas and the Rough Riders." This is a story of the early days of Vegas, as told through the eyes of a Cuban immigrant who left the country to work for Meyer Lansky. It shows that even back then, you don't steal from the mob, no matter how easy you think it might be.
Another standout deals with some muscle for one of the local operators in Preston Allen's "Crip," in which our narrator is saddled with taking care of a little girl since her father still has not paid back his debt. Showing that sometimes the muscle is not just some mindless drone, but people live by their own code, this is definitely one of the true highlights overall — a tough call with a collection of this type.
Lori Kozlowski gives us a story where the moral should be "pay attention to whatever a girl says, even if you think she might be just bullshitting you," in "Three Times a Night, Every Other Night." Following that one is a terrific tale of a two-bit magician who works Vegas and knows not to cross anyone in Jaq Greenspon's "Disappear," which also gives away the trick to a certain illusion.
The final group all deal with "Tales from the Outskirts" — you know, the people who might live in Las Vegas, but have nothing to do with casino life. It starts off with a class trip in "Atomic City" by Nora Pierce, where someone is not coming back with the tour group after turning up dead. The school kids all laugh, thinking it's like that Agatha Christie novel — the one on the train — but shame on Pierce for giving away the solution for that book.
Celeste Starr's debut "Dirty Blood" is a story of a pick-up at a bar that goes really wrong. It shares some of the same ideas from the film CRUISING. Bliss Esposito's "Guns Don't Kill People" deals with a mother who might have to resorts to her father'ss way to stop her son's bully. Finally, the collection finishes off with a truly bizarre story set in Area 51, in Jane Berliner's "The Road to Rachel." To go into detail will truly ruin its uniqueness, but it is probably the only story I've read with killer ostriches. —Bruce Grossman
OTHER BOOKGASM REVIEWS OF THIS SERIES:
• BALTIMORE NOIR edited by Laura Lippman