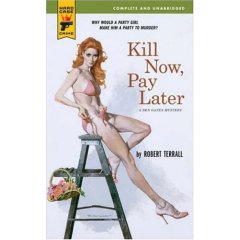 Does KILL NOW, PAY LATER equal a "buy now, read later"? Not quite.
Hard Case Crime reissues a 1960 novel by Robert Terrall, one of the ghost writers behind Brett Halliday's Mike Shayne detective series. There seems to be a bit of Shayne in Ben Gates, the P.I. protagonist of this case who's hired to babysit a room full of wedding presents at the nuptials of a daughter of a very well-to-do pharmaceutical CEO.
The easy gig turns sour when a hot blonde enters the room, drunkenly slips on a bracelet and teases about stealing it. Then her jealous hotheaded boyfriend – the brother of the bride – enters and assumes hanky-panky has just taken place. Gates has little time to defend himself, because someone's drugged his coffee, and he goes down.
When he comes to, not only is the girl gone, but she's absconded with the bracelet, leaving Gates' license on the chopping block. But even worse, two people are dead: the mother of the bride, and a guy who tried to rob her of her jewelry. And Gates missed it all.
But there's more to the story, as the CEO doesn't want known, lest he tip off the tax man: His safe also has been emptied of $75,000 in cash, and he hires Gates to recover it, which also allows the private dick to poke around and clear his own good name. Standing in his way are the police lieutenant who'd like to hang Gates by the gallows, the spoiled brat of a brother and a good number of femme fatales.
Terrall's tale is serviceable, but unspectacular, and seemingly content with being merely okay. Potential lies for the story to explode into greatness – after all, elements of statutory rape, arson and porno flicks are introduced – but they do nothing to accelerate the proceedings. It's a tad overcomplicated with a few too many players.
Although Terrall's story isn't all that involving, he at least has the pulp patter down pat, with ace narration like: "I didn't need to take her blood count to know she had enough little bubbles inside her to lift her off the floor, like those speedboats which travel on a cushion of foam." It's almost worth a casual read just to mine it for sentences like that. –Rod Lott