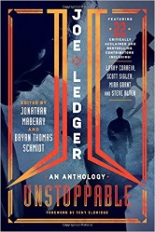 As the protagonist of five novels and numerous short stories, Jonathan Maberry's Joe Ledger is a fully formed character with recognizable traits. This new anthology, JOE LEDGER: UNSTOPPABLE, shows how a group of other authors, selected by the Editors, handle Ledger and his various missions with the Department of Military Science (DMS). The stories vary in both length and perspective, but adhere to the series' combination of thriller and science fiction, and are for the most part worthy additions to the Ledger canon.
In "Banshee," by James A. Moore, Ledger, with the able assistance of his DMS teammates Bug and Bunny, tracks down a nearly invisible, possible female assassin that has been murdering foreign diplomats. The method of the murders further suggests the assassin is something other than human. In Steve Alten's "The Honey Pot" Ledger wakes up to find himself naked in an expensive Paris hotel room, with a beautiful girl in his bed and no memory of how he got there.
Finally Ledger recalls a clandestine plot that could alter the course of the world in a very unexpected way. And in "Vacation," by Scott Sigler, Ledger is assigned to San Francisco where he is drawn into the investigation of a murder that is part of the centuries-old subterranean war detailed in Sigler's novel, NOCTURNAL.
Occasionally the perspective shifts from Ledger's familiar first-person narration. In "Target Acquired," by Christopher Golden and Tim Lebbon, a female assassin follows Ledger to Venice, with the long-held intent to kill Ledger for reasons more personal than professional. And in "Red Dirt," by Mira Grant, Ledger's best friend, psychiatrist and trauma specialist, Dr. Rudy Sanchez, relays the story of a strange disease and how he and Ledger trace it to a seemingly innocent but undeniably frightening source – with reference to one of the novels in Maberry's series.
Unfortunately not all of the shifted perspectives are as effective. "Instinct (A Ghost Story)," by Editor Schmidt and G.P. Charles, is told from the point-of-view of Ghost, Ledger's dog. But although the canine is highly trained and a very competent killer, its first-person narration is downright silly.
Maberry's own contribution, "The Atoll," has Ledger and two DMS cohorts dispatched to a small remote island south of Hawaii, where strange, "Bermuda Triangle-type" disappearances have been reported. The island is deserted, except for a vessel that appears to have crash-landed, and holds a special and frightening significance for Ledger. The confidence of the prose, along with the sly humor, reminds us that Maberry is the well-seasoned creator of Ledger and the entire DMS as well.
The collection includes an introduction by Maberry, where he recalls the genesis of Ledger and the DMS, as well as a forward by TV producer Tony Eldrige who explains the appeal of these stories. Brief biographies of the authors appear in boldface at the conclusion of each story.
Those new to the Ledger series would do well to experience one of the novels before enjoying this new anthology. For Mayberry fans, especially those who have followed Ledger since his first appearance in PATIENT ZERO (2009), this is a must-have, and strong enough to tied us over before Maberry finishes the next Joe Ledger novel. —Alan Cranis