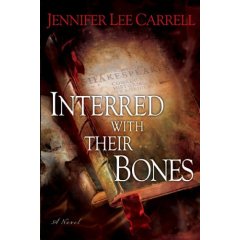 I love literary mysteries, especially when they involve finding lost treasures, so I was excited to dip into Jennifer Lee Carrell's INTERRED WITH THEIR BONES, a debut novel featuring a lost Shakespearean play.
And while Carrell certainly knows her Shakespeare, and the innumerable conspiracy theories that have blossomed around the mysterious poet, I think she needs an editor who could have worked to improve this needlessly confusing and flawed book.
Kate Stanley is a young American director at the restored Globe Theatre in London. Her ex-mentor and professor shows up one day, gives her a Victorian brooch, and tells her that she has found something of import. In less time than you can say "uh-oh," part of the Globe has burned spectacularly and the professor is dead. And yet, as we see time and again in ill-thought-through plots, Stanley is reluctant to tell the police anything about the professor's mysterious visit.
Why? Well, the main reason is so that the character can continue to go off half-cocked and have ever more improbable adventures all while the police chase after her in vain and half of Shakespearian academe are killed. Frustrating.
That could be accepted if the plot were a bit more riveting, and this is where an editor could have really helped. Shakespearian minutiae can be very minute indeed, and one's eyes tend to gloss over when recounting the genealogy of the Howard family, or reading stanzas of poetry that hold ever more obscure verbal puns that supposedly point at the "true" author of Shakespeare's works. Some of this is really quite interesting, but there is so much of it that it tends to meld together, and you start skimming the explanations to get to the action parts – which, I must admit, are very well done, indeed.
Carrell has a smooth factual style honed by her applauded non-fiction writing, and some of the scenes where Stanley is on the run with a James Bond-style male savior are exciting. I also especially appreciated the author's note at the end of the book which discusses her sources and explains a few loose ends. But while there is some promise here for future work, the plotting needs to be de-clogged, and a bit more realism mixed in.
Still, if you're a Shakespeare buff, and you've always wondered about his lost plays, then you'll enjoy this book and Carrell's attention to detail in that regard. –Mark Rose