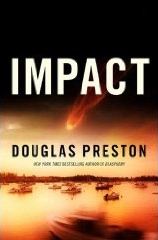 The most impact Douglas Preston's IMPACT may make is in confirming the author's heir-apparent status as the king of the science-based thriller, now that Michael Crichton has left this earth. When Crichton died nearly two years ago, he left some pretty big shoes to fill — even literally; the guy stood 6 feet, 9 inches tall! Not only is Preston up to the challenge, but the quality of his novels arguably have surpassed Crichton's final few.
IMPACT revives the heroics of ex-CIA agent/ex-monk-in-training Wyman Ford, introduced in TYRANNOSAUR CANYON and last seen in BLASPHEMY. Here, he's called upon by the federal government to investigate the source of some strange, deep-orange gemstones that are hot on the black market … but also laced with radioactive material.
Flying down to Cambodia, where he picks up a local sidekick, Ford indeed finds the mine. He's so disgusted at the treatment of the humans he finds there, that he does something he's not supposed to do: Blow it up. Most authors would have made all those events the basis of an entire novel, but Preston's not even close to being done. In fact, Ford finds something even more interesting about this site: It appears to have a crater formed by a meteor. Only here, the hole looks like an exit one, as if the space rock flew through the entire earth.
And that's the surface being scratched, as Preston interweaves two other storylines through Ford's. One involves a young woman and her friend, hunting for a crashed meteor in Maine, while being chased by her angry, good-for-nothing ex-boyfriend. The other centers on a scientist who runs across a startling discovery involving gamma rays emanating through our solar system. You need not be told all three stories will converge into one; that's a given.
Too bad their stories aren't as involving as Ford's, which is uncharacteristic of Preston's work. That's especially true of the girl, Abbey, who's a bit of a pothead and more pathetic than sympathetic. While these secondary narratives don't kill the book, they do keep it from being an all-out winner as its predecessors. Still, IMPACT is scads more colorful than its rather monochromatic cover implies — oh, if only there were an adage to trot out about that.
Ford remains a great hero — a solid mixture of brains and brawn. I like how he outsmarts his enemies; even if he's only calling their bluff, it's his confidence and calm under pressure that wins the day. I also liked how IMPACT's ending hints at a sequel … only one that may take a century before coming into play. If Preston gets around to writing it, that'll be one to read. —Rod Lott
OTHER BOOKGASM REVIEWS OF THIS AUTHOR:
• BLASPHEMY by Douglas Preston
• THE BOOK OF THE DEAD by Douglas Preston and Lincoln Child
• CEMETERY DANCE by Douglas Preston and Lincoln Child
• DANCE OF DEATH by Douglas Preston and Lincoln Child
• THE MONSTER OF FLORENCE by Douglas Preston and Mario Spezi
• TYRANNOSAUR CANYON by Douglas Preston
• THE WHEEL OF DARKNESS by Douglas Preston and Lincoln Child