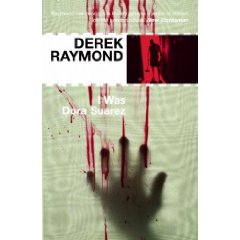 The fourth book from Derek Raymond's "Factory" series might also be his bleakest. I WAS DORA SUAREZ is not feel-good summer beach reading. It delves into a very dark world where it opens with an ax-wielding killer not only chopping up the girl of the title, but then fatally throwing her neighbor, a woman in her 80s, through a clock.
Even when our killer is done piecing Dora, his fun has not ended. He has sex with the victim, slices off her skin to eat, then leaves the scene, with not only ejaculation about the body, but excrement left in the corner to just sit and fester.
Raymond's nameless detective is back, forced into a case no one else will touch, all the while playing by his own code that includes throughly sticking it to anyone who might disagree with his procedural process. That only adds to the sheer bleakness of it all. As soon as our detective starts digging through the case, he finds Dora was dying of AIDS, and was tied to another murder victim: a club owner named Felix Roatta, whose head was completely blown off during the same night.
Our nameless detective goes through his investigation with the one goal of disposing of the animal who could have caused such brutality. Banks adds to this complex set of situations so far deep, you won't see light until it's all done. Raymond's style makes other British authors in the same genre seem like children's stories. As drawn as you are into this truly black story, you always feel as though you should stop, but still continue, to see if there will be some redemption for those involved.
By the closing moments, our protagonist knows fully well what he has to do, since he has fallen in love with a dead woman that he could never have saved, and is only given glimpses of her life through the diary of hers from which he reads passages. For those who want some truly dark noir that will make most wince, you won't find a much darker ride through the human condition than this one. —Bruce Grossman
OTHER BOOKGASM REVIEWS OF THIS AUTHOR:
• HOW THE DEAD LIVE by Derek Raymond