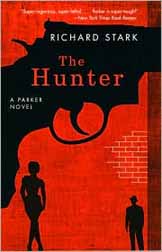 The University of Chicago Press is reissuing Richard Stark's Parker novels, giving one of the great crime series of our time a facelift that Parker himself would approve. Going with a retro look on the covers is a vast improvement over the last time these books were in print. With a release schedule of three books per season, the first three that bring to life the ultimate criminal are THE HUNTER, THE MAN WITH THE GETAWAY FACE and THE OUTFIT.
THE HUNTER is the book that would become the cornerstone to not only a long-running character, but also the quintessential professional thief all others would try to emulate. It starts out as a tale of revenge, with the backstory explained in flashbacks, as Parker was double-crossed by not only his partner, but his wife.
The story is told so well that you feel as though Parker could actually exist. (Sure, it would not be in a world that you would want to visit, but that's not the point.) We're given ringside seats to a tale of payback with Parker out for his share of the money that was taken from him. If people get in his way, they will just become a statistic in his eyes.
The writing of Stark (aka Donald E. Westlake) is unlike anything else up to this point, since Parker is such an anti-hero and one of the clearest ideas of a man on a mission. The book also lays out all the ground work to be found further in the series, including a syndicate-type operation known as The Outfit, and the way Parker recruits his fellow thieves. It all leads up to the final showdown, where Parker gets what's coming to him and leads directly to the following story by ending with Parker aiming to get his face changed by a corrupt doctor.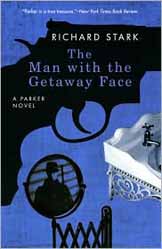 THE MAN WITH THE GETAWAY FACE picks right up after the events of THE HUNTER, with Parker recovering from plastic surgery, so no one from The Outfit will recognize him, allowing him to go on with his life. The doctor he uses was once a Communist sympathizer who now makes his living running a sanatarium as a front for his real business, which is why Parker is there in the first place.
Once Parker is set to go, he is given a letter from a man named Skimm, promising a big-time score with an armored car job in New Jersey. But Parker is hesitant since it's with a person he has never had any acquaintance with before. He is totally right with his hesitation, since Skimm is a total amateur with the added problem of his woman Alma, who, for lack of a better description, is a full-on, backstabbing bitch.
This is just the start to the problems that face Parker. Someone kills his plastic surgeon, so the doc's punch-drunk bodyguard Stubbs comes looking for Parker under the belief he pulled the trigger. But it's not that simple to take care of the big dumb ox, since Stubbs has insurance: letters and pictures for The Outfit of Parker's new face and name.
Again, Stark comes up with a brilliantly crafted crime thriller that proves he is the master of the genre. Its ending leads directly into the third novel, but not right away; as Parker states, he still has some time to relax before facing The Outfit.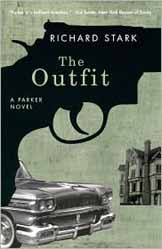 In THE OUTFIT, Parker gets an unexpected visitor: a hired gun who comes crashing into his room as he sleeps. Parker not only takes care of the triggerman, but figures it's better to keep him alive for the information he can provide. After some questioning, he finds out who pointed him out as a snitch in the first place, and goes to his weekly card game with some big-time operators for answers.
After he gets that info, Parker shoots the snitch with a gun he took from the hitman, and from there, the book moves into Parker setting out on a mission of glorious revenge. He knows it's The Outfit that set him up, and now is the time to settle the score. He goes about it by sending out letters to his associates far and wide, telling them in no uncertain terms hit any Outfit operation they can.
This leads Stark to explain so many operations, it's amazing how versed he is in that line of work. For example, if it's a numbers operation, Stark explains how the whole system works, including what a layoff man at a track does. While all this is going on, we witness some of Parker's pals taking them down one by one, as Parker doesn't turn back up until later in the story to finally come face to face with the boss who has been a major thorn in his side.
New readers who might have picked up this book first won't feel lost, since Stark gives a brief highlight reel at the start of the story, setting up the reasons behind Parker's motivation. I really need to stress how well the author has an ear for such a world of criminals. The details feel as if Stark might have been a numbers runner as a youth. But, of course, that's not real — it's just that he really is the master writer for a master criminal.
It's unclear is whether the publisher will put out strictly the Parker books, or also will add in the sub series that features Grofield, one of Parker's pals who was featured in the recent Hard Case Crime reissue of LEMONS NEVER LIE. I, for one, am just pleased as punch that this series is getting a much-needed touchup. It will look fantastic, once all is said and done. —Bruce Grossman
OTHER BOOKGASM REVIEWS OF THIS AUTHOR:
• ASK THE PARROT by Richard Stark
• THE AX by Donald E. Westlake
• COPS AND ROBBERS by Donald E. Westlake
• DIRTY MONEY by Richard Stark
• KILLTOWN by Richard Stark
• LEMONS NEVER LIE by Richard Stark
• PITY HIM AFTERWARDS by Donald E. Westlake
• POINT BLANK by Richard Stark
• SOMEBODY OWES ME MONEY by Donald E. Westlake
• THE SOUR LEMON SCORE by Richard Stark
• 361 by Donald E. Westlake
• WHAT'S SO FUNNY? by Donald E. Westlake
• WHAT'S THE WORST THAT COULD HAPPEN? by Donald E. Westlake