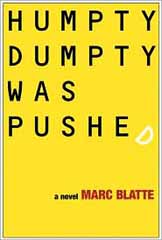 Hip-hop and cops form two extremes of society, as seen in HUMPTY DUMPTY WAS PUSHED, the debut novel from Marc Blatte, featuring cop Salvatore Messina — aka Black Sallie Blue Eyes, so termed by some local mob guys for the cold blue eyes and the ice water in his veins. Sal has a tough case to work through, of a dead bouncer for a club that attracts the wrong crowds, especially when it turns out it was not a robbery gone bad, but a straight-up killing, with the only witness being a car thief who only saw the other half of the crime: a hit-and-run of another bouncer.
It all ties into a wannabe rap group whose manager named Scholar bullies to get studio time by forcing himself upon his cousin, a big-time producer who wants nothing to do with this crew. But when Scholar turns up with the money, the producer claims he needs to work on the demo, opening a can of worms, especially when one of the record label heads claims these guys don't have the skills.
Things turn even uglier for the characters, including a rich-boy junkie who wants everything his way, and when he is rejected, he acts out the only way he thinks he knows how. All of these storylines flow like well-versed rap lyrics, but this book is not going to appeal to all mystery readers, since one-third of it is steeped in slang terms that will lose most. But the procedural portion might keep them glued to the pages, since Blatte has experience, being a former protégé of Evan Hunter himself — a man who knew his way around a police procedural.
Blatte has found himself on some good footing with his first novel and seems to be on the right path for future installments. Hopefully, he'll drop some of the weirder moments that take place — namely, the inclusion of a female wrestler — that just seemed like cheap thrills. But that withstanding, there is still plenty more for readers to latch onto. —Bruce Grossman