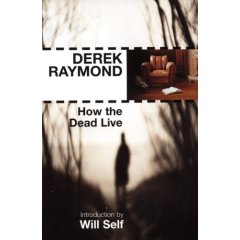 HOW THE DEAD LIVE is the third novel in Derek Raymond's THE FACTORY series dealing with a nameless detective. Serpent's Tail has reissued the whole run, all of which is worth seeking out, because Raymond's writing seems like the missing link between David Goodis to the current run of UK noir that has been coming in recent years.
After the first few chapters, the 1986 book finds its voice. The nameless detective is sent to the small country town of Thornhill to look into the missing wife of a doctor, after the case has been pretty much pushed to the side by the locals. It becomes quite apparent once he arrives and has his first run in with the Thornhill cops that he has his job cut out for him.
The nameless detective is very much in the vein of the hard-nosed cop who takes no bullshit, no matter who is shoveling it — even the local chief of police, who wants this detective gone as soon as possible. But this just adds to the detective's motivation to uncover the truth.
In Thornhill, Raymond has built a little town run with corruption and blackmail, with our narrator just digging through all the BS to find out what happend to the missing woman, only to make a truly disturbing discovery that will remind a few readers of an old Vincent Price film. The narrator also deals with bent cops and crooked businessmen, to add to the sheer noir aspect of the read. Even when our narrator shoots himself in the foot with his superior, he continues like a bull in a china shop.
Will Self provides an insightful introduction of how he stole this title for one of his own books, long before ever reading it. But the real shining star of this novel is the crystal-clear writing of Raymond, since he is more concerned with the characters than the nonexistent mystery he puts his character through. —Bruce Grossman