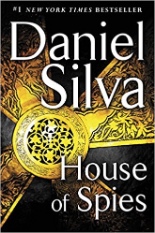 Daniel Silva's latest novel, HOUSE OF SPIES, the 17th featuring Israeli intelligence agent Gabriel Allon, takes place almost immediately after the events of last year's THE BLACK WIDOW and follows Allon in his new administrative role, while continuing his search for an elusive and deadly ISIS terrorist leader.
Four months after the deadliest attack on America since 9/11, terrorists leave a trail of death and destruction through the theatrical district of London's West End. The intelligence world is convinced that it is the latest attack planned and executed by the shadowy Islamic terrorist leader known only as Saladin.
News of the London attack reaches Gabriel Allon just as he is installed as the new chief of Israeli intelligence, known internally as The Office. But Allon retains the Office's previous chief so he can continue his work in the field – in particular his hunt to find and eliminate Saladin.
A loose thread in the London attack leads Allon and his team to Jean-Luc Martel, a wealthy and successful owner of hotels and restaurants, but whose real source of income is drugs. The profits from Martel's business are laundered through the art gallery owned by his long-time girlfriend and partner, Olivia Watson. Olivia, however, has no knowledge of Martel's real business, or that Martel funds the terrorist known as Saladin.
Allon is certain Olivia and Jean-Luc will lead him to Saladin. But can they be trusted? Or are they leading Allon to his death?
Like the previous novels in the series, Sliva's perspective is entirely third person and his tone is detailed but dispassionate and near reportorial. There are moments, however, when Silva goes deeply personal into the inner musings of his characters. One such striking moment is when Allon, home late from work again, silently bids goodnight to his infant twins and wonders if his children will remember their father mainly from his soft caresses as they lie asleep.
Along with Allon, Silva populates this latest entry with characters familiar to followers of the series. These include such Allon cohorts as Uzi Navot, Eli Lavon, and Allon's predecessor and mentor, Ari Shamron. There are also new players, primarily Olivia and Jean-Luc, who are featured prominently. Even Christopher Keller, the hired assassin from Silva's last novel, makes a return visit in an entirely unexpected role.
These co-stars take up much of the action and events – so much so that at times it seems as though Allon is relegated to the background as a mere observer. But once the mission is fully in place Allon takes a much more active role, leading to his deadly confrontation with Saladin.
While his role has changed significantly since his early operations, now both a chief administrator as well as a father, Allon remains one of the most fascinating and reflective spies in contemporary thriller fiction. And Silva again mines the fertile but frightening events of our contemporary world to create another suspenseful and satisfying addition to the Allon series.
Sliva followers will no doubt make HOUSE OF SPIES another national bestseller. If you somehow missed the series, start with one of the earlier titles (mostly still available in paperback) and work your way up to both THE BLACK WIDOW and this this newest entry. —Alan Cranis