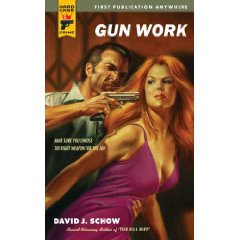 Unlike any other book that came before it, David J. Schow's GUN WORK is Hard Case Crime's entry into the world of men's adventure and gun porn, with the story of a friend helping out a war buddy turning into a straight-up revenge tale.
Carl Ledbetter had called upon his Iraq wartime compatriot Barney for some help after a Mexican cartel takes his wife hostage. Carl figures that Barney, who saved his life overseas, is the only man who can help him out of this mess. From this start, this novel easily could fit into the regular Hard Case mold, but then things change dramatically.
To divulge the first true surprise would ruin the enjoyment of GUN WORK. But Schow gives the reader a real wake-up call. Not everything goes exactly to plan as Barney would have hoped with the ransom exchange, so he makes it his mission to exact his pound of flesh for what he is put through. Make no bones about it: This story goes full-force into material that could easily have been side by side with those old men's adventure books of the 1970s.
There is nothing that sugarcoats the sheer brutality of this book, which doesn't go for cheap shock tactics, but more for the reader's throat, forcing itself upon them. The novel delves into gun-porn territory as it proceeds, but more of a softcore variety — nothing, however, that would lose readers with all the terms or the constant mentions of all the weaponry.
It all leads into what will go down as some of the bloodiest showdowns from this publisher. It felt at some points that you could easily see this action taking place on the big screen. GUN WORK will make most readers take notice from the very start, never going for the cheap way out. —Bruce Grossman