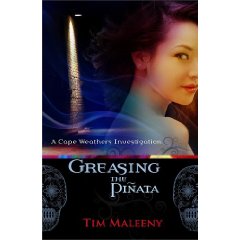 With Tim Maleeny's GREASING THE PIÑATA, Cape Weathers is back for his third case, and of course, things never come easy. Cape's been hired by a woman named Rebecca to find her missing brother, which he does … only dead. But her father, a U.S. senator, is found with him — or should I say pieces of him — in the unlikely place of a golf course water hazard in Mexico.
When the local police turn up to confirm the bodies, the real fun is about to start, which those who have read the previous novels know full well. Maleeny again comes up with a great mystery with some truly great characters — one being a cartel hitman named Priest, who dresses like one and believes himself to be an avenging angel on Earth.
When Cape explains to Rebecca that not only her brother is dead, but also her estranged father, she wants answers. But she is not the only one: A man named Salinas, the head of one of the cartels, wants to know who killed them as well, and he's not going to take "no" for an answer any time soon. And don't fret, fans: Our favorite ninja Sally is there also, with plenty of her skills coming through at just the right moments.
Now, there is something in GREASING that I've never seen in a mystery: the idea of going green. Not in the sense that Maleeny recycles ideas, but using the idea of going green as central to the story itself, with the talk of carbon offsets being a hot topic and leading Cape to make some discoveries. But where Maleeny shines in this book is in some of his references. If it's a discussion of a well-known zombie baseball film, house decorating by Elvis Presley, and some H.P. Lovecraft love, the author shows he's not only growing as a writer, but really hitting his stride.
I'm hopeful that Maleeny already is working on the fourth book, since these have become a favorite for not only me, but my father. If you have not read the other novels, you're safe, as Maleeny never hits readers over the head about the previous plots. But you don't know what you're missing, since Maleeny is a talent to watch and stick with. —Bruce Grossman

"Cape dropped his knees, landing on Tommy's solar plexus."
OTHER BOOKGASM REVIEWS OF THIS AUTHOR:
• BEATING THE BABUSHKA by Tim Maleeny
• STEALING THE DRAGON by Tim Maleeny