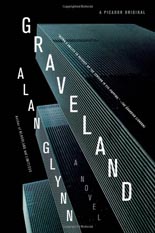 Alan Glynn's GRAVELAND is not what it seems. That's not necessarily a bad thing, providing it means the thriller surprisingly extends its intentions and appeals to more than its intended audience.
Unfortunately, in this case, it means that the Irish-born author's latest leads us in one direction, veers off into another, and never determines which is its true focus.
As the novel begins, the national media and indeed much of America itself are obsessed with the gory details of a long-running, complicated murder trial. Then, one early Saturday morning, a Wall Street investment banker is shot dead while jogging in Central Park. Later that same night, one of New York's better known hedge-fund managers is shot outside a swank restaurant. Suddenly, the focus of the media switches to what appears to be a domestic terrorist attack on the nation's financial leaders.
But Ellen Dorsey, a former investigative reporter who now writes analytical articles for a monthly newsmagazine, has a different theory about the murders. She follows some faint leads and eventually uncovers the identity of the killers and their motive.
Meanwhile, James Vaughan, the elderly CEO of Oberon Capital Group and surviving member of a powerful family with a storied and secretly corrupt past, announces his retirement. His appointed replacement, Craig Howley, struggles with the decision to make Oberon a public company or not, as well as the other numerous responsibilities of his new position. But Howley is also haunted by Vaughan's reluctance to fully resign control of Oberon.
At the same time, Frank Bishop, a former architect, loses his job at a mall-based electronics store when he talks back to his supervisor. Bishop barely has time to pick up the pieces of his broken life when he discovers that his daughter has gone missing — and might be involved with the recent Wall Street murders.
GRAVELAND opens with the first of the murders. Then Dorsey and her curiosity about the killings are introduced. Hence, we immediately conclude that Glynn's focus is how Dorsey discovers who the killers are, what's behind their actions, and stopping them before they kill again. Howley, we also conclude, is obviously the next intended victim, but so preoccupied with his new position that thoughts about his personal safety are furthest from his mind.
Yet after this opening action is set in place, we find that the author is equally concerned about news media itself. He devotes several entire sections to detailing how breaking news these days is heavily influenced and directed by smartphone recordings and the instant information generated by dominant social-media sites. Glynn also dwells on how Dorsey longs to reveal her findings to a fast-breaking, daily publication and is frustrated that her current assignments are more analytical and after-the-fact. Even the website of her monthly publication seems outdated and ponderously slow.
Still, Glynn continues the stories of Vaughan and Howley's battle for control of Oberon. Chapters and sections follow this struggle — almost oblivious to the narrative of the Wall Street killings — eventually bringing the Vaughan family history forward for some unanticipated and awkwardly revealed relevance. Bishop, in the midst of all this, finds himself the unwitting pawn of the media, which adds to his anger and confusion about the events that swill relentlessly around him.
With all these concurrent stories and characters, as well as the shifting focus, it's nearly impossible to tell if Glynn is commenting on the corrupting power of high finance and the hopeless frustrations of everyday working stiffs (a theme of several of his previous crime thrillers) or how the media's resistance to change in the face of today's technology makes it woefully inefficient.
What compels one to keep reading, however, is Glynn's undeniably masterful prose style. With each shift, the writer manages to isolate and successfully express each character's inner thoughts and emotions. He even makes the most complicated financial theories and maneuvers seem intimate and personal.
Still, there are simply too many plates left spinning on top of too many pointed sticks. By the time Glynn tries to pull everything together in the last quarter of the novel, it all seems empty and emotionally hollow.
Readers of his earlier novels will recognize faint ghosts from past works in GRAVELAND. These, however, are not sufficient enough to unify this misdirected latest work. Newcomers can't help but be impressed by the quality of Glynn's personal insights, but will be left scratching their heads wondering what this new book is really about. —Alan Cranis