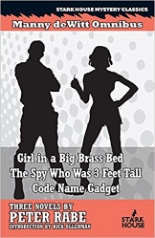 Along with his several noir mysteries and Daniel Port crime fiction series, Peter Rabe wrote a three-novel series in the mid-1960s featuring attorney Manny deWitt. These three novels — GIRL IN A BRASS BED, THE SPY WHO WAS 3 FEET TALL and CODE NAME GADGET — are now available in an omnibus volume from Stark House Press's Noir Classics.
The deWitt series comes as close to the popular spy fiction of the time as Rabe ever got. But in typical Rabe fashion, the deWitt novels are decidedly different from other works of spy or espionage fiction. And while they are not among Rabe's best works, they will be of particular interest to Rabe's many devoted readers.
GIRL IN A BRASS BED begins with deWitt's boss, the wealthy Dutchman Hans Lobbe, interrupting deWitt's business negations in London and dispatching deWitt to Munich to retrieve a painting. The painting is the "Apple Girl" by Vermeer, previously stolen from Lobbe by the Nazis. But the painting seems cursed, since those who come in contact with meet untimely ends.
In THE SPY WHO WAS 3 FEET TALL Lobbe sends deWitt to the newly emerged African nation of Motana to negotiate the building of a road through the country. But several other individuals are involved, and not everybody wants to see the road built.
And in CODE NAME GADGET deWitt is sent to London to purchase a large but unspecified gadget before Lobbe's competitors get ahold of it. Here again deWitt encounters others intent on preventing him from accomplishing his mission.
deWitt is different from other spy fiction protagonists for the simple fact that he is a lawyer and not a secret agent for some government intelligence organization. Thus his missions are more for the good of his employer, Hans Lobbe, than for deWitt's home country. And while he sometimes beds one or more of the attractive women he encounters on his missions, deWitt is far removed from the suaveness of a James Bond.
The first of the three novels is more a mystery than an espionage story. The second and third occasionally involve governments of foreign countries, but this is minimal at best.
All three novels are told from deWitt's first person point-of-view. deWitt's voice is breezy and conversational. Rabe also adds more humor in this series than his other works. But this humor is often based upon deWitt's odd relationship with Lobbe, or his inability to understand Lobbe's ambiguous instructions, spoken in Lobbe's Dutch-influenced English. Other humorous moments comes from deWitt trying to understand how the other individuals he meets are possibly related to his assignments. Unfortunately these intended humorous moments are dull and feel more like distractions than enhancements to either the characters or plots.
The greatest strength of the series is Rabe's playful inventiveness with the missions themselves. While they become increasingly complex with each successive novel, they determine more the fate of deWitt's future, rather than the fate of the world. Indeed if satire were among Rabe's strengths, the deWitt series would stand more securely as gentle spoofs of spy fiction. Instead they are Rabe's attempt to find his place among the works of such enduring authors as John Le Carre and Len Deighton.
Rick Ollerman's introduction notes how the deWitt novels differ from both Rabe's previous works and especially his earlier Daniel Port series. Ollerman greatly admires Rabe – as evident from the introductions to several earlier republished editions of Rabe's works – but dutifully points out those places where the deWitt stories miss their anticipated mark.
Those not yet familiar with Peter Rabe are urged to begin with one or more of the previously republished novels. This latest collection will appeal more to Rabe fans who are interested in reading his attempts to expand his focus and style with these three novels. —Alan Cranis