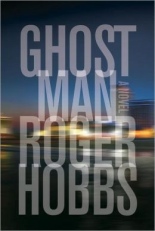 For a first novel, Roger Hobbs' GHOSTMAN is genuinely impressive. It's not perfect, to be sure, but its faults are mostly outweighed by its triumphs.
 
The novel opens with an Atlantic City casino robbery that goes horribly bad. Still, one of the robbers makes off with a little more than $1 million in cash and goes into hiding. Marcus, the man who planned the robbery, knows he must make things right — and knows exactly who to call.
In Seattle, a man sometimes known as Jack is awakened by the rare occurrence of an incoming email on his computer. Jack is a Ghostman — an amazingly resourceful criminal who somehow manages to live completely off today's ever-present digital grid. That's his specialty: making people and things disappear, himself included.
Marcus is one of the few people who know how to contact Jack and calls in a favor from when they last worked together. So Jack is flown to Atlantic City to find the missing stolen cash and get it back on track to its intended destination.
 
Upon arriving, Jack immediately visits the scene of the robbery and re-enacts the events in his mind to determine what went wrong and where the surviving thief is hiding. But Jack is not the only one on the hunt for the stolen cash. Another Atlantic City-based heist planner is outraged that a competitor has invaded his territory and wants the stolen cash himself. Then there's the seasoned FBI agent who somehow manages to keep up with Jack and sees him as the key to solving the whole mess. On top of all this, Jack knows he has only 48 hours before the stolen cash literally explodes.
 
Hobbs wastes no time immersing us into the opening crime in a graphic and breakneck-paced prologue that smoothly segues into Jack's narration. From there, Jack is our guide into his shadowy world of high-stakes robberies with all its esoteric terminology and techniques.
 
The author obviously did his research, and the inside information of what goes into a million-dollar heist is often fascinating. Unfortunately, he seems a bit too in love with this information and takes every opportunity to share it with us at the expense of the narrative pace.
 
Also, there is the recounting of the job five years ago in Kuala Lumpur that went bad and put Jack in debt to Marcus. Hobbs could have revealed this in one or two flashback chapters, but instead includes every detail of the past event and its players in alternating chapters spread out over the entire novel. It doesn't take long before these abrupt shifts, obviously intended to build suspense, become distracting and frustrating.
 
The Ghostman himself is the real reason we put up with these narrative speed bumps. Hobbs portrays him as someone who knows his flaws and limitations, but also knows his skills and how to best apply them. Along the way we get occasional insights into his past and how this influenced the formation of his personal and professional code of conduct. We also learn why, for all its risks, the Ghostman can't imagine himself living any other kind of life — and the reason has little to do with the monetary rewards.
 
Is this the debut of a new series? Will others discover how to contact the Ghostman and tempt him into taking part in their high-stakes schemes?
 
Let's hope so. He is a character worth following — and that's one of the best things any first-time novelist could hope for. —Alan Cranis