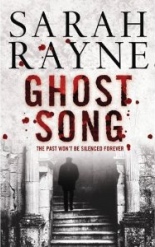 The classic Gothic novels of Ann Radcliffe contain some brilliant descriptions of nature at its creepiest: dark forests, misty mountains, etc. Modern Gothicist Sarah Rayne does the same thing for abandoned buildings, and in GHOST SONG, the derelict structure is the Tarleton Music Hall in Bankside, London's traditional theater district. The Globe and The Rose were on the south side of the Thames.
The Tarleton had been one of London's premiere music halls through the 19th century, but it closed in 1914 — no one seems to know why — and never re-opened. It's privately owned, but cared for now by the Harlequin Society, an organizational nanny for out-of-work theater buildings. Cleaners go in twice a year, and a rep from the Harlequin follows them to make sure they're doing their job.
But now, the old place has fallen under the jurisdiction of a government agency charged with monitoring old buildings, so Robert Fallon is sent to check the place out. This is how the novel begins: "The Tarleton Music Hall was the ugliest building Robert Fallon had ever seen, and he fell instantly and overwhelmingly in love with it."
When he investigates the cellars, he finds a hastily and badly constructed brick wall dividing one of the rooms. He's fearful that a nearby Thames pumping station may have flooded the space behind the wall, but he hasn't got the authority to remove any of the bricks to look, and the head of the Harlequin Society, Shona Seymour, won't allow it. Maybe it has something to do with the fact that the 9-year old Shona had watched from hiding as her mother and grandfather hid the corpse of a young woman behind a hastily built brick wall in their own cellar.
Those two story elements are joined by a third, taking place in 1914, as the owner of the Tarleton, a singer/songwriter named Toby Chance, is seduced into joining a secret political society called "Tranz" and goes to Sarajevo to yell anti-imperialist slogans at the Archduke Franz Ferdinand of Austria. At least, he thinks he'll just be yelling slogans.
Rayne is a past master at juggling several narratives at once, blending the contemporary with the historical. She pulls her large cast of well-drawn characters slowly together until all mysteries are solved.
And the central mystery is: Who or what inhabits the old theater? He walks softly, keeping his face covered and humming old music-hall tunes to keep himself company, just like Shona's long-dead grandfather used to do. The episodes of Robert and a young female accomplice he finds at the Harlequin Society poking around the theater at night are brilliantly written and will surely resonate with lovers of dark-old-house thrillers and ghost stories. The information readers pick up about the Edwardian music hall is a fascinating bonus.
GHOST SONG is a quiet tale of terror. It's skinning its victim alive, rather than dismembering her with a chainsaw — the preferred method with most horror writers today. Victorian novelist Charles Reade once said about his readers, when asked how to write a sensational thriller, "Make 'em laugh; make 'em cry; make 'em wait." Rayne might say, "Make 'em squirm; make 'em gasp; make 'em have a sleepless night." —Doug Bentin
OTHER BOOKGASM REVIEWS OF THIS AUTHOR:
• ROOTS OF EVIL by Sarah Rayne
• TOWER OF SILENCE by Sarah Rayne