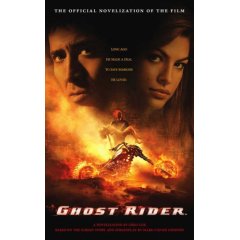 While all signs indicate the movie may be a stinker, the GHOST RIDER novelization is anything but. Quick and painless, Greg Cox's adaptation of Mark Steven Johnson's screenplay revs things up from the start and moves as fast as its hero's Satanic motorcycle.
Sticking fairly close to the origin outlaid by the comics, Ghost Rider comes to be when stunt cyclist Johnny Blaze sells his soul to the devil in exchange for his father (rather than father figure) being rid of disease. Mephistopheles does just that, then pulls a fast one by having the elder Blaze expire in a nasty crash. A crafty one, that devil!
A deal's a deal, meaning that when night falls, Blaze is putty in Satan's hands and his head becomes a flaming skull. Making this most inconvenient is the return of the one true love of his life, TV reporter Roxanne Simpson. Long ago Blaze had to leave her in order to save her; now he may have to save her all over again, as Ghost Rider is dogged by a supernatural enemy appropriately named Blackheart and his team of elemental warriors.
Having already penned several other genre novelizations, Cox knows how this game works: in speed. Waste no time setting up the plot, sustain that momentum and most transgressions of narrative can be forgiven. Those include Simpson's unrealistic on-air dialogue (which movies and TV never get right) and a rather predictable, routine finale (likely more the fault of Johnson than Cox).
With Ghost Rider such a visual-dependent character, the jury was out on whether a pure-text treatment could do him justice. Cox delivers, with an enjoyable fantasy-laden adventure of demons and dirt bikes. –Rod Lott
Buy it at Amazon.
Discuss it in our forums.
OTHER BOOKGASM REVIEWS OF GHOST RIDER:
• ESSENTIAL GHOST RIDER: VOL. 1
• GHOST RIDER: ROAD TO DAMNATION