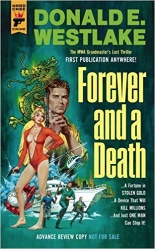 Hard Case Crime is promoting FOREVER AND A DEATH as both the Donald E. Westlake novel that was never before published and the James Bond movie that was never made. So explanations are in order.
In the mid 1970s the producers of the long-running James Bond movie franchise hired crime novelist Donald E. Westlake to come up with a story for the next Bond movie. Westlake developed a story based on what was then the recent transferal of Hong Kong back to the Chinese after decades of British rule. But political concerns intervened and the movie was never made. Westlake then took his idea and made it into a thriller novel that was never published during his life.
As the novel opens, millionaire international real estate developer Richard Curtis has gathered a small group of venture capitalist on his luxurious yacht to witness his latest project. Curtis has found a way to artificially produce tsunami waves strong enough to topple every mad-made structure on a targeted piece of land, and completely reduce the surface to mud. He demonstrates this by leveling the small island of Kanowit, off the coast of Australia.
But Curtis secretly has much bigger plans. Having been kicked out of Hong Kong shortly after it was returned to the Chinese, Curtis seeks revenge for how his life and career were nearly ruined. The only person who suspects what Curtis has planned is George Manville, the engineer who developed the tsunami producing system.
Not far from the Kanowit demonstration, Curtis is being watched by his nemesis, Planetwatch, an environmental watchdog group that has exposed Curtis's threats to environment for most of career. Then a member of Planetwatch suddenly dives off their ship and gets caught up on the killer wave headed for Kanowit. It results in delays that Curtis never prepared for, including the possible accusation of murder.
Rather than write an ersatz Bond novel, Westlake saved the idea of the vengeful developer and avoided any involvement of a secret agent. Yet Bond fans will quickly see how Curtis and his tsunami producing devise easily fits the tradition of villains bent on world domination long established by the Bond movies. The the man who sets out to foil Curtis's plans is George Manville. And while Manville is a brilliant engineer, he is no James Bond and discovers resources he never knew he possessed only when forced to survive.
The novel's focus continually shifts between characters as the plot unfolds. And thanks to Westlake's masterful skills at completely delineating characters with only a few lines, we come to know and understand each character regardless of their intended role. Yet the majority of the focus stays with Curtis as he continually dodges attempts to derail his plans, using every scheme and manipulation at his disposal.
Westlake livens things up with an almost countless supply of unexpected plot twists. And while Westlake fans will no doubt miss the humor that distinguished most of Westlake's best-known works, they will nonetheless find themselves wrapped up in the suspense as the story advances to its inevitable race against the clock.
An afterword by Jeff Kleeman acknowledges his love of Westlake's writings while becoming a producer for United Artists. When the Bond films enjoyed a sudden surge of popularity in the 70s, it was Kleeman who convinced the Bond producers to hire Westlake. After noting the specific concerns that resulted in the rejection of Westlake's idea, Kleeman then traces the development of the novel and notes how it differs from previous Westlake titles. The cover painting by Paul Mann, while a bit misleading, follows the tradition of Bond movie posters.
This is not the first time Hard Case Crime has published a neglected or forgotten work by Westlake. So we are again in their debt for gracing us with another reason to both mourn the loss and celebrate this incredibly talented author – and spend another few hours in his creative company. —Alan Cranis