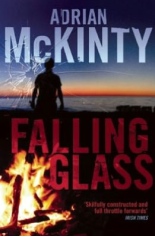 I'm a big fan of Adrian McKinty's writing, having placed 2009's FIFTY GRAND in my top 10 picks of the year. His latest, FALLING GLASS, will probably end up on more than a few best-of lists, too.
This book has a slight connection to McKinty's DEAD trilogy, with that series' main character, Michael Forsythe, playing a pivotal role in this story, but completely in the background. The focus is on a man named Killian, who is a former enforcer of sorts — the type who would rather use words than violence to solve the problems at hand. But, if need be, he will go to the other extreme.
Killian is hired for a large amount of money by Richard Coulter, a businessman with very large connections. He wants Killian to find his ex-wife, Rachel, and her two girls. Killian figures it should be an easy job to handle, but it becomes apparent that someone else is also on the hunt for Rachel, and unlike Killian, thrives on violence. Killians figures there is a more sinister reason for why Rachel is on the run, and it revolves around something she has in her possession that could be damaging not only to her ex, but some other highly placed people.
McKinty keeps the story tightly paced from the start. The reader is never left watching the author spin his wheels, because everything in the story holds importance. And McKinty knows how to capture our attention with the characters he has created, especially Killian.
FALLING GLASS is one of those thrillers you'll read through so briskly that you wish it would not end. When it does, you get a true sense of closure, but perhaps not the kind you might be hoping for. —Bruce Grossman