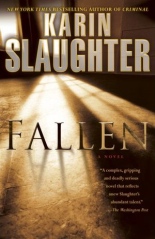 Karin Slaughter's crime novels have never been for the faint-hearted. They always pack a visceral punch. But even her most devoted readers won't be prepared for the physical and emotional wallop of FALLEN, new to trade paperback.


Georgia Bureau of Investigation agent Faith Mitchell tries not to worry as she returns late from a training seminar to pick up her infant daughter. Her mother didn't answer any of the phone calls she placed on the way. Faith's worst fears are confirmed when she finds the door of her mother's house partially open, and a bloody hand print above the knob. She finds her baby hidden in a shed behind the house. Entering the house, Faith finds a dead man in the laundry room and a hostage situation in the bedroom. Faith's mother, however, is gone.
The standoff turns violent, and Faith shoots the two invaders as they flee the house. The police arrive, along with her GBI partner, Will Trent, and their domineering boss, Amanda. Suddenly, Faith finds herself not only a witness to the crimes, but also a suspect in the resulting deaths.
 

Before long, the investigation focuses on Faith's missing mother. It's well-known that her mother, a former law enforcement executive, retired while a drug task force she supervised was being investigated for embezzlement. The police conclude that the home invaders were once members of that force and have kidnapped Faith's mother and holding her hostage for her share of the embezzled money.
Will, on the other hand, notes that key elements of that scenario don't fit. He suspects there is something more complicated, and far more dangerous, behind the kidnapping.
 

From the frantic, opening moments of the first chapter, Slaughter ramps up the suspense and action, maintaining this relentless pace through the entire novel. There are moments where you think you can pause to catch your breath, such as when Will coincidentally meets trauma doctor Sara Linton at a pizza shop. Their faulty flirtation lasts only a minute before he is scooped up into the GBI van and rushed to the scene of the crime.
 

When the action slows down, Slaughter still keeps applying pressure through the emotional complications of her central characters. Faith's upheavals are more than obvious as she tries to care for her family while searching for her mother. At the same time, Will copes with the complications of his beautiful but errant and frighteningly co-dependent wife, along with his utterly confusing attraction to Dr. Linton. We even discover another side to the ball-busting persona of Amanda, when we learn that she and Faith's mother are friends who clawed their way up the law-enforcement ranks together for many years.
 

Greed, at first, seems the motivating theme of the story. Yet as the narrative progresses, with its numerous complications and short-term distractions, we see that personal and professional loyalties, as well as closely guarded family secrets, carry equal weight. Slaughter's prose style is seductively easy-going as it lures readers into some unexpectedly dark moments. Especially memorable is Will's prison interview with a gang leader that rivals the intensity of Agent Clarice Starling's first encounters with Dr. Hannibal Lecter in Thomas Harris' THE SILENCE OF THE LAMBS.
 

Faith, Will and a few other central characters have been featured in many of Slaughter's earlier novels. Yet the author makes it easy for first-time readers to quickly acquaint themselves and then get thoroughly involved in this one.
 

FALLEN is another satisfying success for Slaughter: the kind of suspense/crime novel you'll want to swallow in a single, sustained gulp. That makes it perfect for summer reading, even though its bleak mood is perhaps more suited for a dimmed reading room than a bright, sunny beach. —Alan Cranis