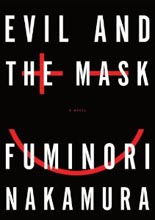 It's the ridiculous premise of Fuminori Nakamura's EVIL AND THE MASK that makes this new work so much less successful than his brilliant debut, THE THIEF.
At the age of 11, Fumihiro Kuki's father tells the boy that he has been deliberately sired to be a cancer on the face of the earth. It is part of the Kuki tradition that when the patriarch gets to a certain age, he fathers a child who will be taught how to bring misery to as many people as possible for the rest of his life. Eh.
The Kuki family has adopted a young girl named Kaori, and it is this girl that the elder Kuki continues to threaten. He plans to break Kaori and, by extension, Fumihiro. But the two young people have become close and Kuki vows to kill his father and avoid his fate.
After the deed, Fumihiro's life gets worse. He begins to wonder if he has become the cancer his father wanted him to be, and he believes that he is coming to look physically like his father. This, in turn, distances himself from Kaori.
Eventually, he is so unnerved by his resemblance that he undergoes plastic surgery and takes on a new identity. But even this drastic of a move does not prevent him from feeling that he is evil — evil behind a mask.
The book is filled with the same hand-wringing philosophy that somewhat marred the author's earlier work, and because this novel is even longer, it gets more annoying. Nakamura definitely has things to say, but I wish he would refine his philosophical arguments, make them more germane to events in the plot, and truly explore the consequences.
As it is, EVIL AND THE MASK is not a terrible book, but it is second-rate compared to THE THIEF. Still, he remains an author to watch. —Mark Rose