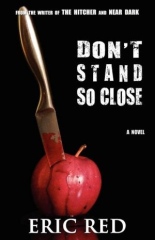 Eric Red wrote the screenplay for NEAR DARK, a Texas vampire flick that I really like. He also wrote the screenplays for THE HITCHER, BODY PARTS and a few other movies that I didn't like quite as much, although whether the fault was his or the directors is anyone's guess.
Generally, I find his story ideas intriguing, but not so much the execution and development. His first novel, DON'T STAND SO CLOSE is a perfect example. Linda Hayden is an Iowa high school English teacher who exudes sexuality. All the boys fantasize about having sex with her, and all the girls want to be her. (In other words, she's totally fictional and has no basis in reality.)
Matt Poe is the troubled 17-year-old who has recently moved to town with his single mom. He is attracted to his English teacher, of course, and is thrilled when she offers to (heh-heh) "tutor" him. He's also drawn to Grace McCormack, the sickly sweet, virginal teen daughter of the town sheriff.
Added to this mix is Rusty, the school weirdo who takes a shine to Matt and begins to dress like him. Matt, of course, is having too much fun with his teacher/bed partner to notice the SINGLE WHITE FEMALE treatment his new best friend is giving him (at least at first). But Matt's troubles really begin when he attempts to break off the sexual relationship with his teacher. You see, Ms. Hayden is not who everyone thinks she is, and faster than you can say FATAL ATTRACTION, the bodies start to pile up.
I keep mentioning and comparing plot elements of DON'T STAND SO CLOSE to other movies, and there's a reason for that: Red has essentially written a suspense-thriller screenplay and forced it into a novel format.
Many, many years ago, when I used to read how-to books on writing, looking for that magical formula that would help me learn how to construct and compose a novel (which can only be truly learned by sitting down and writing a novel and not reading books about writing a novel), I came across a piece on how to determine if your story idea is more suited for a novel or a screenplay. I can't remember where I read it; it may even have been an article in WRITER'S DIGEST.
Anyway, the gist is, if you see your story as more visual-based, it should be a screenplay. If your story involves getting into the characters' minds and motivations, then it's better suited for a novel. What would have made DON'T STAND SO CLOSE a kind of cool little film — the illicit sex scenes between Matt and his teacher, and the slew of slasher-style murders that begin to rack up in the second half — are the shortcomings of Red's novel.
The characters all feel hollow to the reader, who never gets to delve deep into their minds. The author lists what each character is wearing, as if their wardrobe is all the consideration he gave into their creation. Perhaps a cast of actors would have brought nuances to the characters and made them likeble or unlikable, but here, they come across as little more than cardboard cutouts.
Then, too, there's some clunky prose that reads like first-year creative writing class stuff:
"She used to be a Miss September Penthouse Pet but she became born again and got her teaching degree, moved here," Rusty preposterously imagined.
"Hey you homos, I thought we came here to fish," Grace yelled across the drift boats snarkily.
Again, it could have been a fun movie. Some of the scenes, especially toward the end, have a cinematic feel. But in novel form, the same scenes come across as flat and occasionally outright ridiculous.
One final note: In a previous review, I mentioned being tired of the old gimmick of Main Character Spots Him-/Herself in a Reflection and Describes What He/She Sees. Yes, it's something I've been guilty of myself, but it wears on me now whenever I see another writer use it. It's a clichéd way of describing a main character to the readers, and not very original, either.
Three pages into Chapter 1, the author uses it. Consider my pet officially peeved. —Slade Grayson