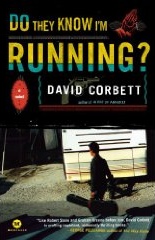 David Corbett used El Salvador as one of the main settings for 2007's acclaimed BLOOD OF PARADISE. Now, in DO THEY KNOW I'M RUNNING?, he returns to this violent and corrupt part of our world. The results this time are a more character-driven story about the tolls of human trafficking.
Eighteen-year-old Roque Montalvo lives a dead-end life looking after his aunt and Iraqi war veteran brother, Godo, in a small California town full of Salvadorian immigrants. He occasionally finds solace in the bed of a much older girlfriend, but Roque's real passion is his guitar, and he is a master at almost every Latin-tinged rock style imaginable.
One day, his life is turned upside down when his uncle is caught in an immigration raid and immediately deported. The uncle's son and Roque's cousin, Happy, puts together the means and dubious funding to get the old man back to the U.S. It falls to Roque to go to El Salvador to deliver the money and retrieve his uncle.
But when Roque arrives and begins his dealings with the Salvadorian gangs who control the area, he learns that there was more to the arrangement than his cousin told him. Along with his uncle, Roque also must take an Arab solider whom the American authorities suspect is a terrorist. Then, at the last minute, the gang leader's girlfriend is literally thrown into the mix, leaving Roque responsible for the lives of three desperate people as well as his own. Their long journey through El Salvador north to Mexico and eventually back into California is laden with deception, political double-dealing and death for every torturous mile.
 
Corbett's prose is dark and densely layered. It immerses you into the sights, sounds and smells of every locale, as well as the interior thoughts and doubts of almost every character involved. It is by no means a "quick read," and takes a little effort to get into its deliberate pace. Once there, however, you'll find yourself completely occupied with Roque and his world, where security and routine are an uncommon rarity.
But the author comes close to overload with his several subplots and secondary characters. Along with Roque and the travelers suddenly in his care, there are also the detailed stories of Happy and his secret deals that fund the trafficking mission; Godo's involvement with the scheme, as he battles his physical and emotional war scars; and the various FBI agents and other law enforcement officers who track Roque's every inch back toward American soil.
All of this is expertly written, entirely credible and eventually pulled together at the novel's conclusion. But it tends to get a bit ponderous and causes you to wonder where and with whome the real thrust of the story lies.
But do stay with it. Because DO THEY KNOW I'M RUNNING? is a heartbreaking and often shocking look into the kind of stories most of us only glimpse through the news media. And it might be one of the best novels of this still-new year. —Alan Cranis