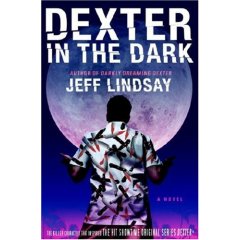 Third in the book series that inspired the Showtime hit DEXTER is Jeff Lindsay's DEXTER IN THE DARK. I actually watched all of season one so I would have some background before starting. I won't go into the differences between the two, since the first season followed the basic plot of the first book – DARKLY DREAMING DEXTER – and that's where the similarities end.
For those who don't know, Dexter is just your mild-mannered serial killer who works the forensics lab for the Miami police. But he only kills bad people, thanks to the guidance of his adoptive father, a cop who saw what Dexter really was at a early age and tried to instill a code to live by when it comes to his needs for homicide.
Like any other series book, there is some carryover from the previous installment, so you may not want to start with this one, since it gives away the outcome of the second one, DEARLY DEVOTED DEXTER. This time out, Dexter is dealing with something a lot worse than hiding his secret: setting up his own wedding to his longtime girlfriend Rita. Yup, Dexter is going to get hitched, giving us some truly black comedy throughout.
But that's only part of it, with Dexter also fostering Rita's two children, who seem to be on the same track as Dexter, due to the abuse they got from their former father. It becomes apparent Dexter needs to have these kids understand that it's not normal behavior to act out on.
The main plot deals with the ritualistic killings of girls, beheading the victims and leaving a ceramic bull head behind. Once Dexter shows up to the first crime scene, his inner voice – The Dark Passenger, as he calls him – disappears from his mind. These killings, you see, are even more brutal then Dexter is used to, and the body count rises with a growing list of suspects.
Lindsay tells the book so well in Dexter's voice, it's frightening, since the only perspective you are given is from a certifiable lunatic. DEXTER IN THE DARK is filled with gallows humor and a great little mystery. All the while, you are rooting for Dexter to figure it all out, without letting his own secret get exposed. So for those who got turned onto this one-of-a-kind character from cable, do yourself a favor and really get into head to see how truly disturbing he can be. –Bruce Grossman