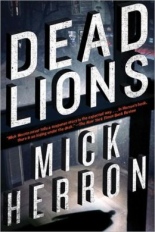 Where do the washed-up spies go? Well, if they were part of MI5, they are sent to Slough House, a place where these agents work out their final years in service. But of course, these agents — who at some point dropped the ball or, worse, crossed one of their fellow co-workers — still want to be a vital part of agency and get into the action. That is the basis for Mick Herron's new crime thriller, DEAD LIONS.
When a former agent winds up dead on a bus way outside his usual spots, the boss of Slough House, Jackson Lamb, is sure something is rotten. The story moves into an investigation which seems to go back years, with fingers pointing toward an old Russian agent who no one is sure is real or just a cruel trick the Soviets have played.
Then if that is not enough, a big-time Russian oil baron is coming to London. And even though they think he is as crooked and probably responsible for more than a few dead bodies, the people at Slough House just have to let it slide, since it's all about signing the contract for a big oil deal.
But some things don't add up and it's incredibly clear, to the point it's even brought up in the story itself how obvious some things seem to be. And when a discovery is made that has been hidden for years, the question as to why now comes to mind.
DEAD LIONS is very much in the vein of John le Carré-like espionage, which is fine, but also its hindrance — at least for this reviewer, since the book relies on a long, slow build-up. Especially at the halfway mark, it really becomes a slog to get through; it's not until the final chapters that everything comes together and any sort of action takes place.
But to get there, some readers might feel a bit confused by its pacing. Still, the character of Jackson Lamb will keep them with it, since he is an old, bitter agent with a sarcasm streak a mile wide and can be incredibly brutal to his fellow workers. The reveal toward the end of the book works with everything coming to light, including why Lamb was stuck in Slough House. But by then, my interest was at the wane.
I wish some of that action that takes up those final moments could have been featured earlier in the book. For fans of le Carré, you will really enjoy the bickering and interoffice goings-on. But for fans of Len Deighton, you might want to look elsewhere. —Bruce Grossman