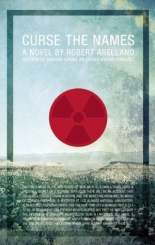 Robert Arellano's latest thriller, CURSE THE NAMES, deals with the lingering threat of nuclear waste buried underground. It is frustratingly uneven, but compelling reading almost in spite of itself.
 
James Oberhelm works as the in-house reporter for the Los Alamos National Laboratory in New Mexico. His job is to write mostly puff-pieces for the Lab's monthly publication — stories about the hobbies that fill the days of retired lab employees — as well as translating laboratory press releases into non-threatening, everyday language. His marriage has settled into a dull routine, so when a young female blood technician at his doctor's office makes what sounds like an invitation to "hook up" over the July 4 holiday, Oberhelm is intrigued.
Oberhelm drags his wife out on a camping trip over the holiday weekend. While she sleeps, he sneaks out to the abandoned house where the blood technician says she and some friends will be drinking and partying. When he gets there, the old adobe house is empty and Oberhelm takes a "loser photo" of himself inside the house with his cellphone to memorialize the occasion.
 
Later, when he reviews the photo, he notices a strange red streak coming out of his body. But before he can examine it further, the photo is mysteriously erased. By then, Oberhelm is so curious he researches the home's previous residents and learns its strange, deadly history.
Digging deeper, he finds that the house is located is located in an area where huge quantities of nuclear waste are buried. The slightest earthquake could release the radiation to the surface with devastating effects. At the same time, strange events happen to Oberhelm in what he fears is a conspiracy to severely discredit him professionally and quite possibly murder him.
 
For a novel as short as this (under 190 pages), an effective structure is crucial for its intended effect. Unfortunately, most of the opening chapters are filled with false starts to the main narrative. Arellano obviously knows how to present credible character exposition, as evidenced by his earlier works (HAVANA LUNAR and FAST EDDIE, KING OF THE BEES). Here, however, his characters backstories outweigh the story and feel more like distractions.
It also doesn't help that Oberhelm, the main character whose first-person narration drives the story, is so unlikable. We want to sympathize with him as we learn how unfulfilling his life and job are, but he seems to run away from his problems at every opportunity by swallowing any kind of booze he can find (or afford), as well as smoking the joints he carries in an Altoids tin or downing any painkiller he gets his hands on.
 
On the plus side, Arellano combines the eerie early history of the Johnson House, the location of Oberhalm's failed tryst, with the contemporary threat of leaking nuclear radiation buried underground and its deadly aftermath. These moments are truly frightening, and the resulting suspense is what spurs us to ignore all of the protagonist's self-destructive behavior and read further to discover what happens.
 
With a slightly more amiable main character and a more driven and balanced narrative structure, CURSE THE NAMES might have been a masterful, cautionary story of a danger existing literally under our feet. As is, it is memorable more for those fleeting moments scattered throughout the short novel where all the elements come together.
All the more regrettable from an author like Arellano, who is by no means a neophyte. —Alan Cranis