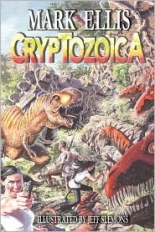 While many writers have tried to reignite old pulp adventures with mixed results, CRYPTOZOICA takes the idea and mixes in a few other things to come out with a blast of reading fun. Mark Ellis' novel is not one that you will plow through in an afternoon — far from it, as it definitely takes its time to develop.
His idea of an island with living dinosaurs has been tackled before, from Sir Arthur Conan Doyle's THE LOST WORLD to Michael Crichton's scientific approach in JURASSIC PARK. What CRYPTOZOICA does is take some elements from both and insert characters who could have come out of the heyday of pulp adventures, in a story surrounding Charles Darwin's hidden journal and the secrets it kept — namely, the island of Tamtung and its unusual residents.
Ellis fully details a backstory and sets all his pieces into proper order, since the book takes its time before showing the reader the first dinosaurs. But that is not to say readers will not be bored. Not a chance, with a secret society having a central role, as well as millionaire Howard Philips Flitcroft, who sunk a ton of money into the island years ago with the idea of making it an exclusive resort.
Now, Flitcroft has another idea and he needs the help of both top-name scientists and fortune hunters who have fallen on hard times. The characters Ellis uses are built from the old pulp days, be it the swaggering "Tombstone" Jack Kavanaugh, a former pilot and now adventurer-for-hire living in exile on an island; Honoroe Roxton, a scientist with Lara Croft-like looks; or Aubrey Belleau, a man of short stature whose real plan is well-hidden from his fellow cohorts.
Throw in a Triad leader, a bodyguard and a cigar-chomping adventurer, and you have yourself plenty of cogs for the wheel, but the book isn't one giant action piece after another. Yes, at a few moments, a bit of trimming could have helped, but that's only a minor problem, since once the action starts, the story never lets up and has some great surprises along the way.
Adding to the fun of CRYPTOZOICA is the art by Jeff Slemons, whose dinosaurs make me want to reread my copy of Jack Kirby's DEVIL DINOSAUR. His work seems to jump off the pages. Even before the story starts, Slemons gives us character pages for most of the leads, so you can't help but have these images ingrained in your mind as you read. I just wish he did a few more plates to scatter about, but then again, this is a book, not a comic.
Ellis, who cut his teeth writing men's adventure series like DEATHLANDS, knows how to pace his plot, to the point when you think it's all finished, he throws in another surprise. CRYPTOZOICA is a novel for those who really want to sink their teeth into something engrossing to the finish. For a modern take on pulp adventure, you would be hard-pressed to find one that delivers like this. —Bruce Grossman