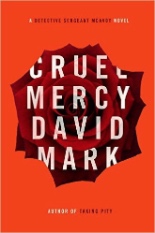 CRUEL MERCY is the fifth novel in the series featuring Scottish Detective Sergeant Aector MacAvoy, written by David Mark, and in a series that can be somewhat hit or miss, this one falls mostly in the "miss" category. The first slight misstep, and it is very slight, is that this book is set in New York City not Yorkshire. It would have been a disaster if the author had excluded two of the strongest female characters in detective fiction, MacAvoy's gypsy wife Roisin and his boss, Trish Pharaoh. Thankfully, these two do make multiple appearances between phone calls, text messages and Skype sessions.
The bigger misstep is the plot. For why is MacAvoy in New York? It seems that a young fighter, Shay Helden, and his boxing coach, Brishen Ayres have flown across the seas to try out for advanced training. A Valentine Teague, who happens to be Roisin's brother, comes over the day after. In a short span of time, Helden is found dead, and Ayres has had his nose cut off and is barely surviving, comatose, in hospital. Teague is nowhere to be found.
Apparently, the Heldens and Teagues are old gypsy families, and the Heldens blame the Teagues. They are out for blood, literally. MacAvoy decides he can bring peace to the conflict and so he comes to New York to investigate. And promptly bumbles and stumbles his way into both the Italian and Russian mobs, and a series of horrific crimes that has taken place over the last 30 years.
The bumbling and stumbling affects the reader, too. The author tries to tell a number of stories, one from the point of view of a killer, one from the point of view of a religious penitent, one from the point of view of a troubled priest, one from MacAvoy's point of view, and it all becomes rather a jumble. The plot is overly complicated and it takes a long time for the storylines to mesh.
I'm being a little harsh on this book, because the whole series is rather well done. MacAvoy is a sensitive cop, interesting in and of his own right, but he's brought to life by the presence of Roisin and Trish Pharaoh, who are only tangentially involved in this tale. The writing is still crisp, the dialogue still realistic, and series fans will feel just fine about CRUEL MERCY: an interesting one-off where MacAvoy travels to the New World. But they'll want him to return and dip his detecting boots into something perhaps a little less crazy and convoluted the next time. —Mark Rose