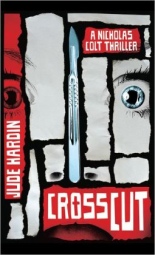 While CROSSCUT is the first Nicholas Colt thriller from the pen of author Jude Hardin I've read, it's actually the second in a series of five books and growing. His style is pure thriller, remarkably over-the-top and featuring extreme consequences. People die, brutally, and these books would probably not be for the squeamish.
In this installment, Colt is asked by an acquaintance to look into the disappearance of her husband. He was a cop in small town in Tennessee. One day, he is called to a home and then is never heard from again. When the police investigate, they find two people murdered, and two others missing along with the cop. Colt is reluctant, but when he discovers that the victims had slanted crosses carved into their foreheads, he changes his mind.
This disfiguring mark was the signature of the Harvest Angels, a murderous Nazi white supremacist group that Colt had thought he had shut down years ago. Could they be back in operation? Colt begins the investigation but is soon captured by the organization and brainwashed. He becomes a new man, dependent on drugs provided by his new master. He has become a tool in their plan, a plan he does not know or understand. If he did know, he would be horrified.
CROSSCUT is certainly enjoyable enough, and the character of Nicholas Colt is well-drawn. He's a rough and tumble ex-P.I. who loves his wife and child, but manages to get into some of the nastiest situations. The plot's a little beyond the horizon, but if you don't mind the wildness of it all, the series might be a good one to look into. At least this entry of the series is short and sweet, fast-moving and fairly intense. —Mark Rose