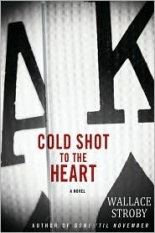 Crime novelist Wallace Stroby didn't make us wait near as long for COLD SHOT TO THE HEART as he did for last year's fine GONE 'TIL NOVEMBER. Like that novel, this one features a female protagonist caught up in the responsibilities of her profession and the complexities of her personal life. This time, however, the woman is not a cop.
Crissa Stone is a career criminal, and a very good one, too. She has to be, since women are a rarity in her filed. But she is a good as she is thanks to a strict set of rules she follows. Like never working a job too close to her New York City home, never rushing a job, and never working with the same crew.
These and other rules she learned from her lover, Wayne, who took the fall for a heist gone bad and is now in a Texas prison. Wayne is up for parole, and Crissa needs to pull together a huge amount of cash to pay a lawyer who could influence the parole board and insure his release. That's why she agrees to take on a job she might otherwise have refused.
The target is a high-stakes poker game in a classy Florida hotel. The inside information says that there could be as much as $1 million in cash on the table. So Crissa agrees to pull together a crew and help plan the robbery. But one of the crew members gets jittery during the heist and shoots one of the card players. Suddenly, the robbery becomes a murder, and Crissa and her crew rush to divvy up their take and disappear both from the scene and from each other.
 
As it turns out, the murdered poker player was a made man. Soon, Eddie the Saint, a psychopathic hit man recently released from prison, is hired to hunt down and kill those who shot the poker player. It isn't long before he has Crissa in his sights.
 
Stroby evokes memories of the best of Richard Stark's (aka Donald Westlake) Parker series, especially in his main character and the scenes where she and her crew assemble and plan the knock-over. But Crissa is not simply a "female Parker." She is driven more by her devotion to Wayne than just a dwindling cash supply.
Earlier, Crissa gave up a baby daughter to the care of a close cousin, and now must watch the child grow up without her. Unlike Parker, Crissa longs to put her criminal life behind her and live out the rest of her days in quite, fairly law-abiding normality.
 
COLD SHOT follows a similar narrative structure from Stroby's previous novel. Crissa and Eddie's storylines are presented separately and inch closer together until their inevitable confrontation. The characterizations are strong and convincing, and the pace is swift and assured, with just enough pauses to allow us to catch our breath and prepare for what comes next.
With only four titles to his name, including this one, Stroby has nonetheless shot right to the top of dark-tinged crime authors worth noting and following. If you haven't picked up on him yet, COLD SHOT TO THE HEART is an excellent place to begin. —Alan Cranis